University Advising Center
Freshman Connect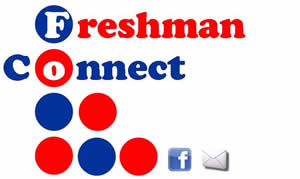 Freshman Connect will group first year freshmen with a Freshman Coach in their first 2 semesters at Fresno State. Emails and Facebook posts will be used to communicate important deadlines and use of resources, as well as opportunities to ask students how their semester is going and if they have any questions. Ultimately, Freshman Connect will provide a peer-to-peer connection to help students be successful in their first year at Fresno State.
How to get involved:
All incoming freshmen will be grouped with a Freshman Coach through email
Students will begin to receive emails in August through May of the following year
If students choose, they may also add their Freshman Coach on Facebook to receive updates there as well
Why is Freshman Connect so important?
You will receive important reminders and deadlines
Connect with your Freshman Coach online so you can ask questions
We will provide you with resources available to you on campus
We will help you with your transition to Fresno State in your first year