University Advising Center
DISCOVER YOUR MAJOR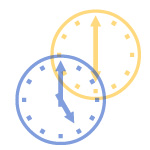 Getting Started ...
Time will run out
Is your major listed as Undeclared?
Did you choose a major but, really, are unsure of what you want to do?
Confused about how to explore possible majors and careers?
Deciding on a major that is a good one for you is a process that can take from several weeks to several months, depending on your personal needs. What does this mean?
First-time freshmen are encouraged to begin the exploration process their first semester and decide on a major by their second or third semester. Lower-division courses can be identified for the first three semesters before running out of options, which will be in about ten months!
Upper-division transfer students find it necessary to begin exploring possible options almost immediately. Normally, these students will have only one semester of upper-division General Education courses to complete before running out of options.*
The importance of picking the "right" major is sometimes overemphasized. Generally speaking, your choice of major does not dictate what careers you will be able to enjoy. However, if you want to be an engineer, then you will probably major in engineering. But many people happily find themselves in jobs that have nothing to do with their major! There's a good chance your first job will be related to your major. After that, it's likely your career will follow several different paths.
Don't let indecisiveness delay your exploration of possible majors. Get going! Use the information in this website or contact the University Advising Center.
* The University Policy on Declaring Majors

Students are strongly encouraged to declare a major before earning 45 units and are required to declare a major before completing 60 units (transfer students with 60+ units can register their first semester before having to declare a major). Students who do not meet this requirement will have an enrollment block and not be able to register for the following semester.