University Advising Center
TRANSFER STUDENT SUCCESS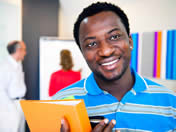 A student who has transferred to Fresno State from a two-year community college or four-year university is considered a "transfer student."
The transfer process can be stressful at times, so we encourage you to take advantage of every opportunity to learn about the programs and services available to you.
Newly Admitted Students
Entering students (admitted to the university for the coming semester) are required to attend DOG DAYS New Student Orientation. This day-long series of workshops and presentations will provide you with valuable information you will need to have a successful transition to Fresno State.