For Parents
As a parent, you play an integral role in your child's academic and social development. You lay the foundation for their future. If you'd like to learn more about how Cal-SOAP can help your child(ren) thrive, please contact us directly to learn more about what we offer.
Here are some additional resources you can use to help your child(ren) thrive in school, work, and life.
THE FAMILY'S ROLE
Set high expectations.
Meet with your child and their college counselor in high school.
Get involved in the application process.
Encourage and support your child during their senior year of high school and first year of college.
THE STUDENT'S ROLE
Share the application and selection process with your family.
Determine what help you will need during your senior year.
Seek support from your family, school, and community to reach your goals.
Allow for mistakes; they are part of the learning process.
Every Wednesday Night from 6:00-6:30PM
Parents, do you have questions on how to use zoom, how to create an email account, how to help your child apply for Financial Aid, etc? Cal-SOAP will hold office hours for parents every Wednesday night to answer questions, disseminate information and give you the opportunity to connect with other parents. bit.ly/calsoapoffice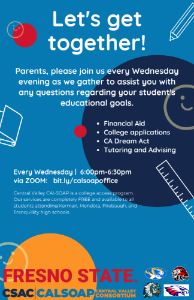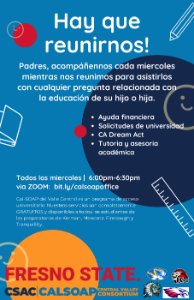 FSA gives parents the information they need to save for college, learn about financial aid, and help their child complete the Free Application for Federal Student Aid (FAFSA). FSA also provides in depth resources on college and financial aid in both English and Spanish.
College and career exploration
College admissions assistance
Family college knowledge
Family financial aid nights and financial literacy
Cash for College Campaign (regional initiative)
Financial aid and scholarship application assistance