Services for Students with Disabilities
Student Instructions for COVID-19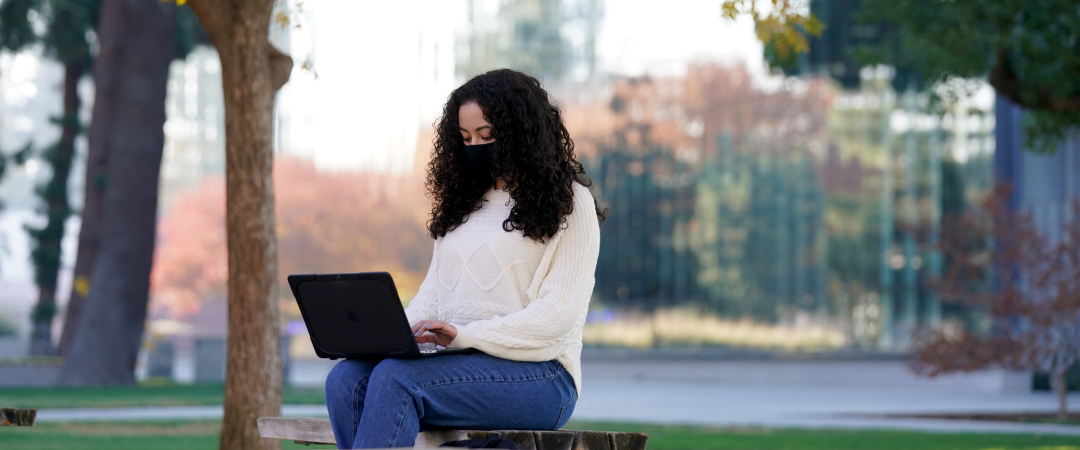 The office of Services for Students with Disabilities (SSD) would like to assure our students that SSD will continue coordinating and supporting the needs of our students while we continue with Virtual sessions in the fall semester. SSD would like to thank you for your patience in advance while we address the concerns of each and every student, faculty, and staff member.
Please keep yourself updated with official communications from the CSU, Fresno campus. Please review all of the outlined items below that pertain to you. More information is provided below on Student Instructions for COVID-19, please contact the SSD office by email at ssdstaff@mail.fresnostate.edu or by phone at 559-278-2811 for more information.
SSD Tools
Upon guidance from the campus and public health professionals, with regards to preventative measures, all appointments will be held via Zoom or phone. If an appointment is needed with any SSD or TRiO-SSSD staff member to discuss services or additional support throughout this transition, please contact SSD by phone at 559-278-2811 or by email at ssdstaff@mail.fresnostate.edu.
New Students Setting up services:
Required Documentation: Application for Services and Disability Verification form(s) can be downloaded from SSDs Forms page.
Instructions
Please fill out the Application for Services form.
Documentation or information regarding the disability from a doctor, practitioner, or other qualified individual should be uploaded to the application. IEP/504 plan documents may be considered based on content. The student can also have their physician or health care provider fill out the Disability Verification form.
Once an appointment is scheduled, the student will receive a calendar invitation to the meeting. Prior to the appointment, a Zoom link will be emailed.
Note: Other Acceptable forms of disability verification:
Documentation of services from the previous school attended.
Physician letter with a diagnosis.
IEP / 504 plan documents may be considered based on content.
If you are unable to keep your appointment, a courtesy call to cancel or reschedule is appreciated.
SSD will not be proctoring any exams as faculty provide exams online.
Please keep open communication with your professors to address online quizzes and exams, if you will need extended time. Professors are responsible for setting up time on CANVAS needing time accommodations.
CANVAS Exams
LockDown Browser may not be accessible with certain Softwares. Please reach out to the testing coordinator to discuss alternative options.
To make sure we notify your professor about your testing accommodations please fill out the online test request form at least five business days before the date of your exam.
The online test form is available on our website: Online Quiz, Exam, and Final Accommodation Request
Once submitted, the Testing Coordinator will email your professor about your testing accommodations. If you have any questions in regards to testing please email ssdtesting@mail.fresnostate.edu.
If you plan on attending the 2020 fall session and requiring your textbooks in digital format. Please, make sure to submit a separate professor letter request form for summer courses.
Please be sure to download and save the form and after filling it out. The Schedule Form and Request for Professor Letters are available on SSD's forms page.
As a reminder, this form is the initial request to begin your request for your instructional materials in an alternate format.
Please turn in your form as soon as possible. Processing of textbooks and instructional materials can take up to 6-8 weeks.
If you have any questions please do not hesitate to meet with me by scheduling a zoom appointment or phone appointment by contacting the front desk at 559-278-2811 or email Rima Maldonado at rmaldonado@csufresno.edu.
If the new materials posted to CANVAS are in a format that is not accessible to you, please follow these guidelines below.
Download the materials to your device.
Email Rima Maldonado (rmaldonado@csufresno.edu) with the following information regarding your materials and "Alt-Media Request" in the subject line.
Student Name and ID Number
Course Name and Instructor Name
Name of material attached and their Due Dates
Attach all materials to the email
PLEASE NOTE: Read&Write can provide tools to assist you, and SSD recommends that you attempt these methods before sending a request for SSD to work on your materials due to the time restraints.
Scan – Convert inaccessible PDFs to accessible documents
Screenshot Reader – Able to read selected material from any document
For those students, faculty, or staff needing mobility assistance, SCOUT On-Campus Transportation will continue to operate, however, there will not be a set schedule. Please utilize SCOUT on an On-Call basis by calling 559-278-1900 for a ride. Please allow 10-15 minutes wait time, from the time you call to the time a driver gets to you.
If you have trouble getting through to the SCOUT Phone line, please call 559-278-8400 and let them know you are a SCOUT user.
There are many cases where students enrolled in virtual instruction may not need a note-taker. For instance, if your professor posts recorded video lectures, or recorded PowerPoint lectures, or posts notes/PowerPoint documents, that you are able to review at your own pace, then a note-taker may not be needed.
If your professor is hosting live lectures, please reach out to ssdnotetaker@mail.fresnostate.edu and our office will reach out to your professor about asking for a note-taker.
If you have any questions regarding this process or regarding notes for a specific course, please email Belen Vera at belenvera@mail.fresnostate.edu or call the office at 559-278-2811.
We are working with the Center for Faculty Excellence so that the interpreters and captioners can be added to Canvas to your respective class sections. If you notice that interpreters or captionists are not added to your session, please inform SSD and your instructor.
If a Zoom meeting is requested, a link will be sent to your email and will also be placed on your student calendar outlining how to join the session.
Communication: Utilize email, phone, and text communication. Keep in contact with your classmates, professors, and SSD as needed, early and often.
Self-motivated: Keep up with the required tasks by being proactive.
Time Management: Utilize your Google calendar and set up daily academic time-blocks and deadlines.
Technologically prepared: Explore electronic devices, CANVAS, Zoom, and other features to become comfortable with an online learning environment.
Technical Support: For basic desktop and CANVAS support, contact the Technology Services Help Desk.
Optimal Study Area: Create a comfortable (seating and lighting), quiet and calm study environment free of distractions such as video games, television, cell phones, internet surfing.
The California Department of Public Health recommends the following steps to prevent the transmission of all respiratory viruses:
Wear a mask if you are able.
Washing hands with soap and water.
Avoiding touching eyes, nose or mouth with unwashed hands.
Avoiding close contact with people who are sick.
Staying away from work, school or other people if you become sick with respiratory symptoms like fever and cough.
For more information, please visit SSD's Frequently Asked Questions (FAQ) or contact the SSD office by email at ssdstaff@mail.fresnostate.edu or by phone at 559-278-2811 for more information.