Services for Students with Disabilities
Faculty Notification Breakdown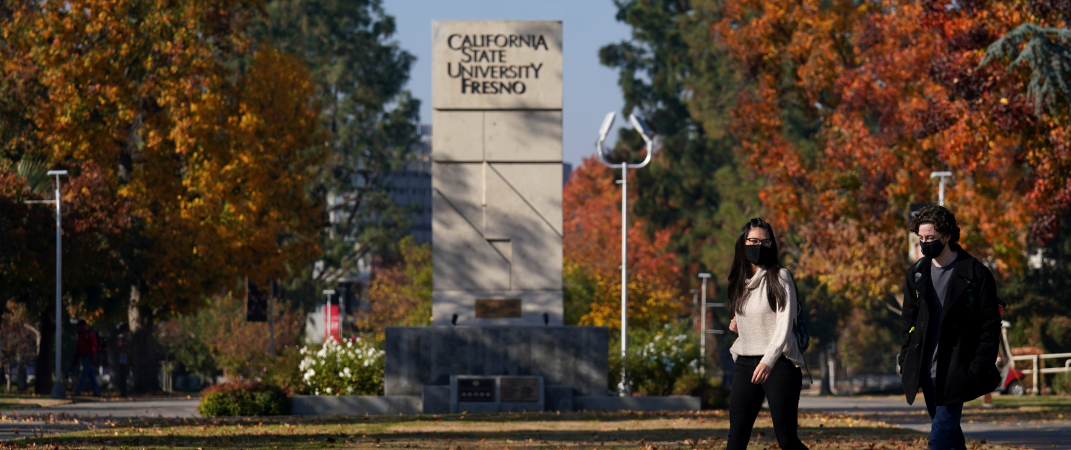 The office of Services for Students with Disabilities (SSD) will notify faculty members by sending a notification letter or emails through the SSD office that have been requested by a student in your current course. Some accommodations may need a little more explanation for you to administer them during your course. More information is provided below on Faculty Notification Breakdown, please contact the SSD office by email at ssdstaff@mail.fresnostate.edu or by phone at 559-278-2811 for more information.
Due to the documented disability, the student is eligible for alternate media for instructional materials. The purpose of this accommodation is to create equal educational access in accordance with federal regulations. Our office is currently processing requests for students as they can take several weeks to prepare. Please, make sure that the Kennel Bookstore is notified of the required instructional materials for your course as our team utilizes the Kennel Bookstore website to assist in processing and producing accessible instructional materials.
If you are collating various journal articles and portions of books into course materials for CANVAS, please use direct links to the article. If you are scanning materials and uploading to the LMS, please use original copies or a copy that provides text and images that are as clear as possible. Creating course materials using a second, third, and fourth-generation copies of material (copies made from copies, etc.) may cause images of text that are illegible. Materials such as this make it impossible for character recognition software to decipher images as readable text. Faculty members are encouraged to learn how to create accessible materials by utilizing the resources and assistance provided by the Center for Faculty Excellence 559-278-6892.
The student may audio record lectures for their own educational purposes. Recordings are not to be shared with other students, posted to any online forum, or otherwise disseminated in any way without professor approval.
The student may have a disability that may occasionally impact their ability to complete assignments on time. The student should notify the faculty and their Access and Ability Specialist in advance of the assignment due date that they will not meet the deadline. The Access and Ability Specialist and faculty will engage in the interactive process to determine an appropriate extension of time.
If an extension on a given assignment would negate the purpose of the assignment, or have implications for other students in the class, the faculty may contact the Access and Ability Specialist to determine if it is reasonable.
The student has a disability that may affect their attendance. Depending on the individual classes, the accommodation may result in a modification to the usual attendance policy.
An FM system is an assistive listening device. These systems are typically used in-person where the presenter wears a wireless microphone with a transceiver and the student wears a headset with a receiver. Since we are in a virtual environment, your computer microphone and the internet will act as your transceiver, and the student will connect their receiver to their computer to hear you more accurately and clearly via Bluetooth or other means. In a virtual setting, you or your class in a breakout room will most likely not have to make any changes on how your present information.
Faculty Procedures
Certain students may not need a note-taker for their virtual class(es), however, it depends on how the course will be conducted.
If your course will be conducted in a virtual synchronous environment, our office may need a note-taker for your course.
If your course will be conducted in a virtual asynchronous environment or you are recording your lectures and putting them online for students to access, our office may not need a note-taker for your course.
SSD students and faculty with questions on note-taking accommodations are encouraged to reach out to Belen Vera at ssdnotetaker@mail.fresnostate.edu.
Testing Procedures
The student will initiate the request by filling out our online "Testing Accommodation Request Form". This can be found on the SSD website.
SSD will send you an email 1-3 days prior to the exam date to remind you of the student's accommodation. Please adjust the student's exam time according to the Professor's Letter.
Extending Time on Exams on Canvas
Extended time on exams can be added to individual students on Canvas. Please go to the following link for a step by step guide on extending exam time on Canvas.
Lockdown Browser on Canvas
If LockDown Browser or other software is required for exams, please notify your students immediately. Some students may have a disability or require the use of assistive technology that is not accessible with Respondus or other lockdown browsers. Please prepare alternative methods to administer your exams such as providing the exam on Canvas without LockDown Browser or providing the exam in a Word Doc or PDF document.
Computer w/ R&W
The student uses a text to speech software (Read&Write) to listen to their exams. The student has the accommodation to access this software while taking their online exams.
For more information, please visit SSD's Frequently Asked Questions (FAQ) or contact the SSD office by email at ssdstaff@mail.fresnostate.edu or by phone at 559-278-2811 for more information.