Services for Students with Disabilities
Accessible Instructional Materials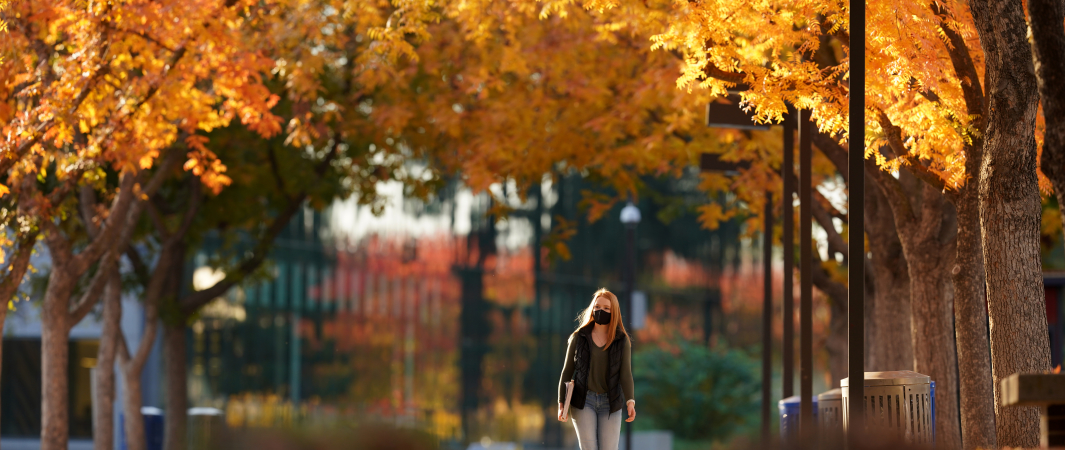 The office of Services for Students with Disabilities (SSD) offers the ability to provide equal access to all information and electronic technology for our students with print-related disabilities is critical to their educational success. Accommodations for our students with disabilities fall under the mandates of Section 504 and Section 508 of the Rehabilitation Act of 1973. More information is provided below on the Accessible Instructional Materials, please contact the SSD office by email at ssdstaff@mail.fresnostate.edu or by phone at 559-278-2811 for more information.
Alternate Formats is an accommodation approved by an Access Specialist (AS) on an individual basis through an interactive process between DMS and the student. It must be supported by the documented effects of the student's disability. Any text that is required or supplemental for academics needs to be accessible. Accessible instructional materials are print- and technology-based educational materials, including printed and electronic textbooks and related core materials that are designed or converted in a way that makes them usable across the widest range of student variability regardless of format (print, digital, graphic, audio, video).
We provide assistance for the creation of textbooks, instructional materials, and other printed information converted to alternate formats such as Braille, large print, or electronic text.
Electronic Text (E-Text) such as Microsoft Word or Adobe PDF files, which can be accessed on a computer with screen reading or screen magnification software. E-text can be easily stored, can be searched and indexed, and can be converted to large print or braille.
Large Print documents for those with sufficient vision, large print is often desirable. Although they are somewhat bulky, materials in large print have the advantage of being relatively portable and requiring no special equipment while conveying all the graphic and spatial information contained in the original material.
E-texts are either created on campus by scanning the material or are acquired from the publishers, under the provisions of AB-422 Instructional materials: Disabled Students, which requires publishers to provide E-text to students with disabilities.
Braille is a system of reading and writing which is used by approximately 10 percent of blind and visually impaired individuals. Braille can be quickly referenced without any equipment and can include charts, tables, simple diagrams, and a reasonable approximation of the format of a printed document. Tactile Diagrams are printed on special heat-sensitive paper to produce raised lines and images accessible to people who are blind.
Fresno State University is equipped to provide braille material for students through the use of Braille translation software and a specialized braille printer. Requests should be made far in advance of need because it takes a considerable amount of time to produce lengthy, complex documents such as textbooks in braille.
Eligibility for service is determined by the Services for Students with Disabilities (SSD) Access Specialist (AS) and is based in part on the professional documentation provided by the student.
Students must submit and sign an Alternative Formats Contract Agreement through the mySSD Student Portal to receive alternative formats accommodations.
It is the student's responsibility to complete and submit their Alternate Formats accommodations through the mySSD Student Portal imformatstely upon registration, preferably a minimum of (6) weeks prior to starting the course.

Please Note: SSD students who have been certified to receive Alternate Formats Accommodations are given priority registration status to facilitate their requests in a timely manner.
It is beneficial for the student to complete the requests (6) weeks prior to the beginning of the semester, as resources are more readily available.

Requests will be processed in the order received with students whose disabilities severely limit their access given the highest priority.
Depending on workflow and demand, students may receive their alternative media in installments.

The following steps must be followed when placing Alternate Formats requests each semester:

Step 1: Students shall fill out all requests for Alternate Formats accommodations through the mySSD student portal.

Textbook conversion cannot be processed without confirmation of registered courses.
Inaccurate or incomplete requests increase the risk of delay.
In the event that a student drops a course or there is a change in alternative text needed, the student must notify the Alternate Media Coordinator (AMC) immediately so that the alternate media production team may respond accordingly.

Step 2: If additional information is required for research, students will be notified through an email request.

The student is required to purchase or rent each book that they are requesting to satisfy copyright laws. Students must show proof of ownership (such as a purchase or rental receipt) before the release of materials.

Proof of purchase/rental textbooks can be submitted either by uploading receipts to the mySSD student portal.

If the materials are required to be formatted (scanned) in our office, students will be requested to provide their copies of all textbooks, course packets, handouts, etc., to use in the production process. If scanning is requested, the book will be cut, scanned, and rebound.

PLEASE NOTE: The AMC will check the availability of existing alternate formats. If alternate formats of the textbooks are not available and the textbook needs to be scanned, the process may be delayed. Rented textbooks are not allowed to be cut. If a rented textbook is brought in for scanning, SSD will not be held responsible for any damage to materials that may occur as a result of conversion to alternative formats.
Original materials (i.e., textbooks and handouts) not picked up by the end of the finals week of each semester will be recycled.

Immediate Access Options

Immediate Access (IA) is course materials (digital/web versions of the student's books, assignments, etc.) that can be purchased through Canvas. The material is posted inside of the student's Canvas portal course throughout the add/drop dates. The student may choose to purchase the IA material or opt-out and purchase the material another way. We ask the student to please explore this option if it is available to them. Some professors REQUIRE the student to use the book offered through the Canvas portal.
This IA option of the textbook provides an embedded reader within the program and, depending on the material, can be read by utilizing Read&Write software. Please note, not all IA materials, including textbooks and assignments, are compatible with accessibility software such as Read&Write, JAWS, and other text-to-speech software and devices. If this option is not sufficient or textbook(s) are not available in a digital format, we ask the student to contact the AMC.

Delivery of Alternative Formats

A Google Drive folder will be created for the delivery of materials. The student will receive an email notification with instructions directing the student to login into the mySSD student portal to access the Google link to obtain the course textbook.
Access to the Google folder is restricted to the SSD student only in the use of the student's Fresno State email.
Editing of the Google Drive folder is restricted to the SSD Production Editing Team only.
Current semester textbooks will be delivered directly to the "current semester folder" found within the student's Google Drive "Shared with me" folder labeled by the student's "last name, first name."
Students are advised to download textbooks/materials immediately upon delivery to their devices.
Students are advised to review the accuracy of the materials.
Students are advised to check their email frequently as SSD will send status notifications of materials which can include communication requesting for further information of requests.
Completed textbooks that are not downloaded within the semester may result in services being reviewed by an Access Specialist (AS).
Materials may be used only by the eligible student and may not be reproduced or distributed in their specialized format to any other individual. Any further reproduction or distribution is an infringement of federal and state law and is subject to criminal or civil prosecution as stated in the (Copyright Revisions Act of 1976, as amended 17 U.S.C. Sec. 101 et seq.).
Recommended (But Not Required) Reading Assignments: Upon request, the instructor recommended reading assignments will be converted into requested alternate formats when needed for a course. The standard production turnaround times will not apply to recommended readings, which have lower priority than those requests for required readings. Upon receiving a request for recommended materials, the SSD Alternate Media production team will provide an estimated date of completion.
Student questions regarding alternative formats should be addressed directly to the Alternate Media Coordinator, Rima Maldonado, at (559) 278-2811 or at email to rmaldonado@mail.fresnostate.edu.
Upon approval of Accessible Instructional Materials, SSD will:
Evaluate student's needs during AIM Orientation.
Locate a pre-existing accessible version, if available.
Create an accessible version, if needed.
Distribute accessible materials.
To submit instructional materials information to the Kennel Bookstore according to deadlines.
To respond to SSD or student inquiries regarding instructional materials needed for accessibility in a timely manner.
Provide good source files for articles (SSD calls articles (reading materials) distributed through learning management systems "files" for simplicity and consistency).
Provide accessible versions of files (HTML instead of PDF) whenever possible.
If a student needs alternative media, please provide SSD upon request with syllabi, textbooks, and instructional materials (it is recommended that course materials are prepared 5 weeks prior to the beginning of the course) in order for students with disabilities to use alternative media when all other students have course materials. With such timely consideration, students with disabilities who have alternative media needs for accommodations and instructional access will be best served. Converting print materials is both labor and time-intensive. Alternative media may be print material in Braille, scanned into digital media, or enlarged.
Under US Copyright law, accessible files (also known as "Alternative Format"), provided to the student can be used solely for eligible student's own educational purposes and cannot be copied, shared, or distributed for use by others.
The receipt of any alternative course materials from California State University, Fresno, Services for Students with Disabilities office is a declaration by the student that:
The student qualifies as having a disability that is certified by the California State University, Fresno SSD office, and that disability requires the use of these alternative course materials.
The student is currently registered at California State University, Fresno, or registered at a participating consortium membership institution at the time of the student's request for text in alternative formats.
The student will not copy, reproduce, or share any of the specialized formatted texts, nor allow anyone else to do so.
The student already possesses the course materials he/she is requesting in an alternative format and will provide proof of such possession if required to do so by SSD on behalf of the copyright holder.
Student makes a request for textbooks/instructional materials for a class.
AMC seeks additional book information if needed. NOTE: Custom versions of textbooks will require additional communication from the instructor or department.
AMC looks for pre-existing accessible versions. This often involves:
Checking repositories
Asking the publisher if electronic files are available
AMC and production staff will convert source files into the desired product. This often involves:
The student providing a physical textbook.
Having the spine removed.
Scanning the entire text into an image file.
Using Optical Character Recognition Software (OCR) to produce the desired product
Editing files further.
AMC or lab production staff will notify the student when the complete text is ready OR if part of the text is ready.
AMC will distribute books when ready.
A coursepack is a collection of journal articles or chapters or book excerpts from a variety of sources. Many times, course packs are physically printed and students are required to purchase from the Kennel Bookstore. Sometimes, course packs are available in electronic format to all students through a learning management system.
The student makes a request for accessible instructional material for a class.
AMC seeks additional book information if needed.
AMC will locate a source file using one of the following methods:

Obtain an electronic version of the course pack, if sold through Kennel Bookstore
Request student to provide a purchased copy of course pack
Obtain source file from the instructor

AMC will convert source files into the desired product. This often involves: AMC or lab production staff will notify the student when the complete text is ready OR if part of the text is ready.

Scanning the entire text into an image file
Using Optical Character Recognition (OCR) Software to produce the desired product
Editing files further

AMC or lab production staff will distribute course packs when ready.
The student recently became registered with SSD.
The student has not had alternate media orientation or assistive technology orientation with the AMC or ATC.
The student does not submit an accommodation request on time.
The student changes class.
The instructor has changed.
An instructor is not assigned early enough.
Textbook information is not submitted to the Kennel Bookstore in a timely manner.
The instructor changes required instructional materials after requests have been submitted.
Source files of books, articles, or course packs are very poor and require reconstruction and editing of the text.
Not all required reading materials are listed or available at the Kennel Bookstore.
For more information, please visit SSD's Frequently Asked Questions (FAQ) or contact the SSD office by email at ssdstaff@mail.fresnostate.edu or by phone at 559-278-2811 for more information.