Central Valley Emerging Leaders Summit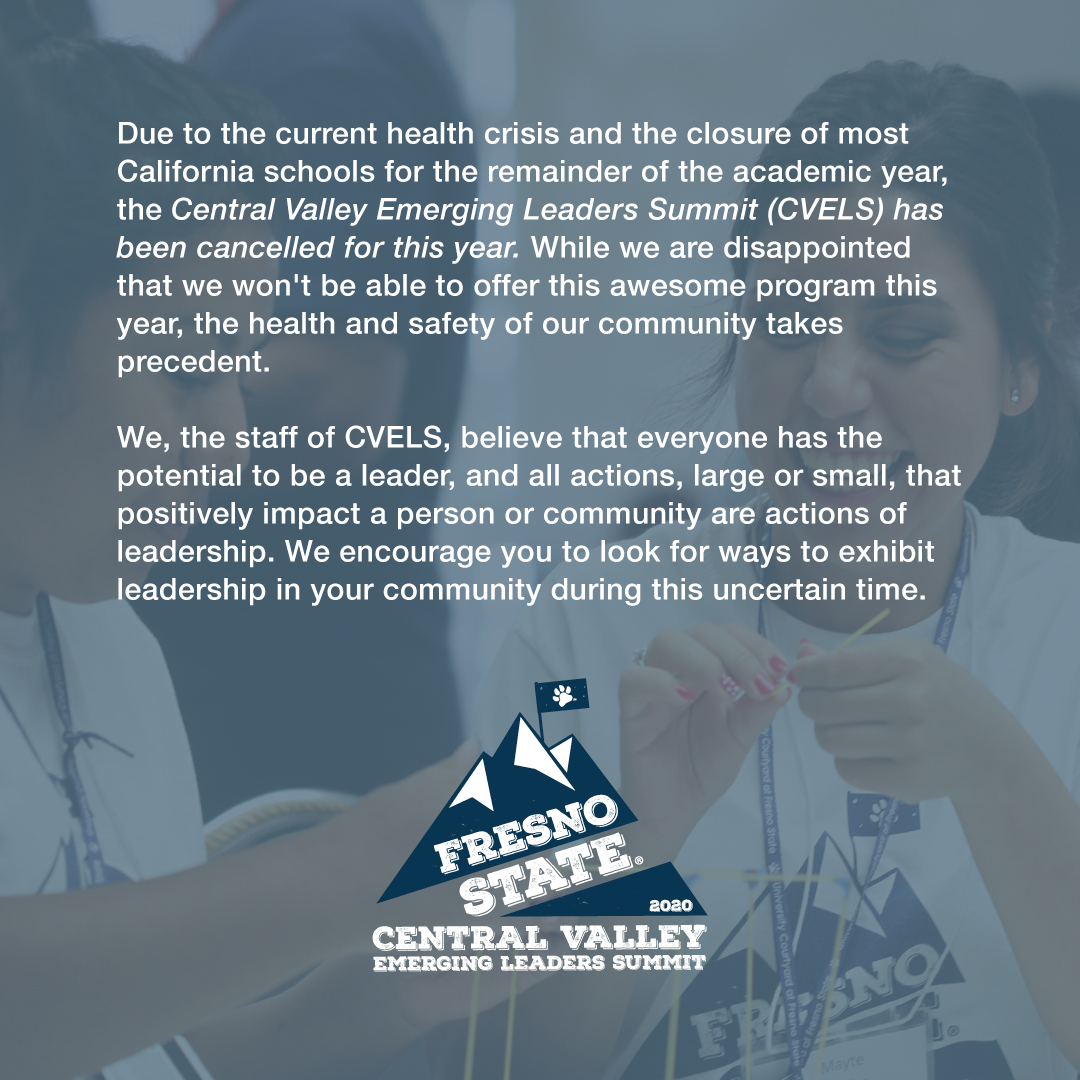 At Fresno State, we believe in the students of the Central Valley — our emerging leaders — who come from diverse backgrounds to boldly achieve and make the Valley a better place.
Some students have already established themselves as leaders at their high schools, while others have yet to realize their leadership potential. Fresno State's Central Valley Emerging Leaders Summit (CVELS) will help build the leadership capacity of Valley students by developing confidence and providing the tools and training to help the students excel.
This free three-day, two-night summer event will bring Valley students to Fresno State where they will hear from inspirational faculty and community members, engage in hands-on activities, and network with current Fresno State student leaders all while having the opportunity to live and dine on-campus.
How do we define a student leader? Simple — everyone has the potential to be a leader! From the student body president at Orosi High School, to the most inspirational player on the softball team at Buchanan High, to the shy student at Madera High looking to get more involved — this Summit is for you. Participants will walk away feeling inspired and capable of taking initiative on their campuses and making positive impacts in their communities.
Students will have the opportunity to network and develop relationships with peers and mentors throughout the Valley, including with current Fresno State student leaders.
Central Valley Emerging Leaders Summit Statement of Inclusion
Central Valley Emerging Leaders Summit (CVELS) is dedicated to cultivating a welcoming and supportive environment that enhances success and advancement for all participants and staff regardless of personal experiences, values, and world views. CVELS is committed to embracing differences of culture and circumstances including, but not limited to, race, ethnicity, religion, sex, gender, gender identity/expression, sexual orientation, age, language, learning styles, socioeconomic status, geographical region, and ability.
Please click here for more information about Fresno State's commitment to inclusion and diversity.