Academic Resources
Textbooks and Computers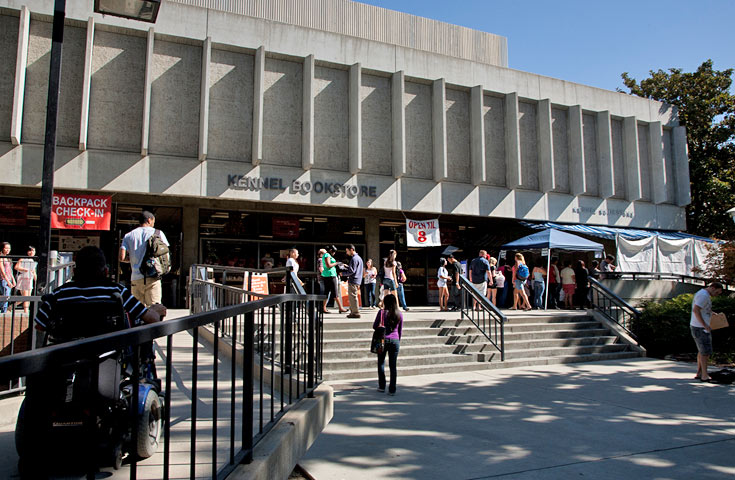 In the first few weeks of the semester, you'll need to think about purchasing necessary textbooks and supplies for your classes.
Textbooks
The Kennel Bookstore is located in the center of campus in front of the fountain. The bookstore offers new, used, rental and digital books. You can purchase your books online, or on the third floor of the Kennel Bookstore.
It is helpful to know that all purchases made at the Kennel Bookstore are returnable through the end of the first week of class. Click here for a full return policy.
Computers
The Kennel Bookstore sells both computers, tablets and computer software. Educational discounts are available to students, faculty and staff. To view a full list of available technology, you can view their Technology Flyer.
DISCOVERe
Launched in Fall 2014, DISCOVERe is Fresno State's new mobile technology program. Approximately 150 course sections will be offered as mobile device only courses in Fall 2015. These DISCOVERe courses have been redesigned to offer students an enhanced learning experience. The Mobile devices will offer students portability, convenience, and teaching materials anywhere anytime. When registering for classes, these courses will be denoted as "DISCOVERe class."
For more information about the DISCOVERe program, you can view the Kennel Bookstore website.
Campus Help Desk
If you're having trouble accessing your Student Portal, email account, Blackboard, or need to reset your password, you should contact the Technology Service Deskat 559-278-5000.
On their website, you can also learn how to sync your Fresno State email account to your phone, learn about free software for students, and submit a work order for any problems you're having.
Pay for Print
Employees, students and guests can print from anywhere on or off campus, using their Bulldog Card or a Bulldog Bucks card.To find out where printers are located and how to use this service, visit their website.
Computer Labs
Fresno State provides students with many open computer labs on campus to be able to check email and work on school projects.
There are several Open Computer Labs on campus:
Library , open spaces
Peters Business Building, Room 133
Kremen School of Education, Room 420
Social Sciences Building, Room 202
University Student Union, main floor and lower level
Helpful Links
Pay for Print