On Campus Resources
Fresno State provides our students with a wealth of helpful resources to assist them academically and through basic needs. The following resources are available for all current Fresno State students to use.
Student Health & Counseling Center
A team of physicians, nurse practitioners and other health care professionals available to meet your medical needs.
Financial Aid
The Financial Aid Office can assist you with loans, grants, scholarships and other available forms of aid
Career Development Center
Assisting students with career exploration, job interview preparation and employer connections.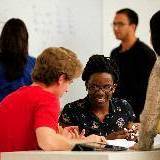 University Advising Center
The centralized academic advising home for all undeclared, exploratory students and students in transition between majors at Fresno State.
Project HOPE
Connecting students to helpful resources on campus and through United Way 211.
Good Samaritan Fund
The Good Samaritan Fund is available to help students who have experienced an unforeseen financial emergency.