New Student and Family Programs
Office of New Student and Family Programs




Welcome! 2023
The Office of New Student and Family Programs will be conducting Welcome events the week prior to classes beginning to help new students and their families get acclimated to campus. There will be virtual workshops, Advising Center Open Houses, Find Your Class Tours, and free food vouchers to the first 200 students.
Freshmen students can meet the MentorU staff and connect with a mentor. Transfer students can drop by the Transfer Success Center to grab a snack and your free TSC t-shirt.
Zoom links to virtual workshops can be found in the calendar below. We're looking forward to seeing you on August 17th and 18th on-campus. Go Dogs!
Download this pdf with event details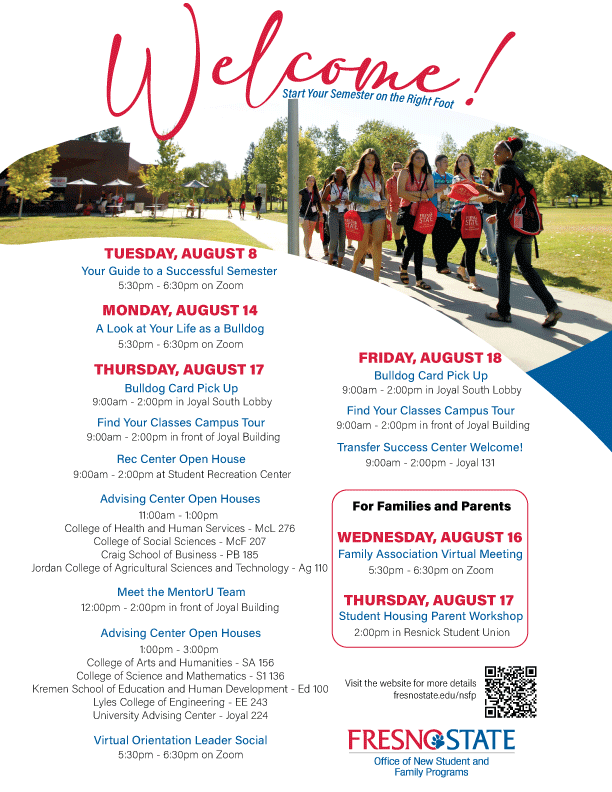 Supporting new students and their families during their transition to the university.
The Office of New Student & Family Programs mission is to assist students and their families in their transition into the Fresno State community of scholars. Providing experiences and programming to help you acclimate to the university and foster a sense of Bulldog pride. Our ultimate goal is to provide students and families with support, maximizing opportunities for students' personal growth and life long success.
The Office of New Student and Family Programs, or NSFP, is comprised of four programs:
Dog Days: New Student Orientation - @fresnostatedogdays
Family Association - @fresnostateparents
MentorU - @fresnostatementoru

Mentoring program for freshmen. Get connected to a peer mentor and attend events and workshops specifically designed to get you connected to campus.

Transfer Success Center - @fresnostatetransfers

The program to help transfer students navigate the Fresno State campus.
Each of these programs provides a variety of services such as workshops, events, and peer mentoring. Whether you are a freshmen, transfer student, or a student supporter, our office is here to serve as a resource. Fresno State can feel like a daunting place but we are here to help you navigate the campus and get connected. Student success is at the heart of all we do. Check the calendar below for activites or follow us on social media for program updates.
Family Weekend
Family Weekend is October 27-29th, 2023. Visit the webpage for more information about the weekend and how to sign up.
Sincerely, Fresno State podcast
Do you love podcasts? Listen to the new Sincerely, Fresno State podcast from the Office of New Student and Family Programs. You can find it on the link above or on Spotify or Apple Podcasts.
Calendar of Events
The events in the calendar below are for all students. Join a workshop to learn more about campus and how to get involved.