University Advising Center
GENERAL EDUCATION REQUIREMENTS
Students in most majors must complete a minimum of 51 semester units of General Education. If you have any questions about GE, see an academic counselor in the University Advising Center, Joyal Administration Building, Room 224 (559.278.1787).
NOTE: Liberal Studies, Engineering, and Smittcamp Honors College students follow modified GE patterns. Please see advisors in those departments for more details.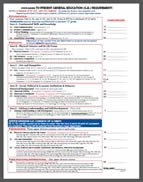 <--- Click on the image to download a PDF copy of the GE pattern.
(Updated May 2015)
The current GE pattern has been in effect since the 1999-2000 catalog.
Click here for the 1988-89 through 1998-99 General Education pattern.
Commonly Asked Questions About GE
May I take a general education course at my local California community college during the summer?
YES! A helpful resource can be found at Assist.org. To find this information in ASSIST, look at the CSU GE-Breadth Certification Course List for your community college, or come to the University Advising Center to determine if the course you plan to take is articulated with Fresno State.
I plan to study abroad next semester. Are there any classes I can take that will fulfill General Education requirements?
Yes, you may be able to pre-petition for courses taken in your study abroad program to fulfill GE requirements. See an academic counselor in the University Advising Center to find out if a course or courses you plan to take could count for GE.