Satellite Student Union (SSU)
Earl Whitfield Hall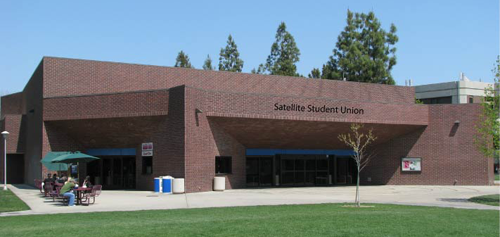 The Satellite Student Union (SSU) is one of Fresno's best multi-functional facilities! The SSU features a permanent stage/backstage area that's ideal for live performances, movies, lectures, and ceremonies. It can also be configured for luncheons or receptions. Theater capacity is 800 and dining capacity is 400.
The SSU's technical staff can add that special touch to your event with custom lighting and sound, and the facility can be reserved by the public.
Information and Reservations:
Reservation Center
University Student Union, room 301
559.278.6024

Location:
2485 E San Ramon Avenue
Fresno, CA 93740
To see Campus Parking Enforcement guidelines, click here (link).
Facility Rental Fees:
Resources:
Please contact University Dining Services, the exclusive provider of food/beverage service on campus, for your food and beverage needs. From small social gatherings to large events, University Dining Services staff will assure that your function is flawless from beginning to end.
Food Waiver Request form
Alcohol Request form
Parking and Transportation site
Campus Parking map
Floor Plans:
Notices:
Reservations must be made a MINIMUM of 30 days in advance and up to 12 months in advance.
Completed forms must be turned in a minimum of four weeks prior to event. Forms submitted less than four weeks in advance may not be accepted due to the complexity of technical requirements, availability of equipment needs, and/or staff scheduling
Fresno State is a tobacco-free, smoke-free and
vapor-free campus.
Your support in ensuring a healthier environment for
students, faculty, staff and visitors is appreciated.
Information/Reservations:
Reservation Center University Student Union
Room 301 559.278.6024

Paws-N-Go Snack Bar
8 a.m. – 2 p.m.