Undocu-Ally Resources
The Dream Success Center will be hosting every semester a TWO-PART training for faculty, staff, administrators and peers.
Learning Modules
Part 1
Have lived in the United States most of their lives.
Have learned English.
Have attended elementary, middle, and high school in the United States.
Have completed high school and want to pursue a college education.
Currently, lack a way to become legal residents or citizens of the U.S.
Educational resources:
In the Shadows of the Ivory Tower: Undocumented Undergraduates and the Liminal State of Immigration Report
Book Recommendations:
Dear America, Notes of an Undocumented Citizen by Jose Antonio Vargas
Lives in Limbo: Undocumented and Coming of Age in America by Roberto G. Gonzalez
Who is an Unauthorized Immigrant?
Unauthorized immigrant- foreign-born non-citizens residing in the country who are not legal immigrants. Can also be referred as Undocumented Immigrant.
Entered the country:
Without valid documents, or
Arrived with valid visas but stayed past their visa expiration date
Educational Resources:
ASPIRE-Pan-Asian Undocumented Lead Group
CA passed AB 60- drivers licenses for undocumented immigrants
Travel
What is Deferred Action for Childhood Arrivals (DACA)?
Executive Order signed on June 15, 2012.
It is relief from deportation and provides a work permit for a 2-year period that can be renewed.
It is NOT a legalization program, a path to citizenship, or a permanent residency (green card).
Work permits remain valid until expiration date-no need to update with employer unless they ask. Your employer cannot ask you about DACA or your immigration status.
Educational Resources:
Immigration Legal Resource Center
Undocumented Americans
Supporting Undocumented Students
Undocumented Americans: Inside the Immigration Debate
Tips for Allies
For those who have DACA, must continue to renew (within 6 months of expiration)
Part 2
What is it like to grow up as an undocumented youth in America?
California Nonresident Tuition Exemption
AB 540/ AB 2000/ SB 68 Eligibility
K-12 attendance in CA for 3 or more years.
Graduation from a CA High School or GED
Registration as an entering student at an accredited institution of higher education in CA.
File an affitdavit with the institution
Expansion of AB 540/AB 2000 through SB 68
CA Dream Act
AB 130-Authorizes AB 540/AB 2000 students to apply for UC, CSU, CCC administered scholarships
AB 131-Authorizes AB 540/AB 2000 students to apply for state aid (CA Promise Grant (formally known as BOG) & Cal Grants)
SB 1210- CA Dream Loan Program for AB 540 students in CA public universities
California Educational Laws for Students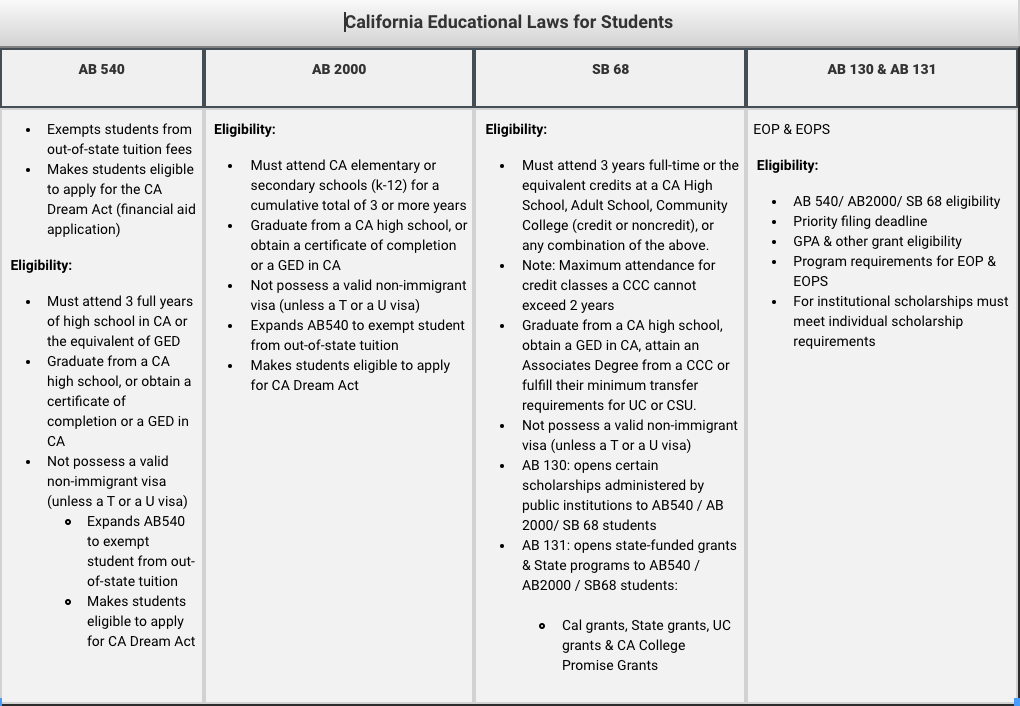 More information visit:
UndocuAllies by Department
UndocuAllies by Department

| Department | Position | Name | Email |
| --- | --- | --- | --- |
| Accounting Services | Staff | Evangelina Owens | eowens@csufresno.edu |
| Admissions (Admissions & Recruitment) | Staff | Ricardo Andrade | randrade@csufresno.edu |
| Admissions (Admissions & Recruitment) | Staff | Maribel Olea | molea@csufresno.edu |
| Admissions (Admissions & Recruitment) | Staff | Pang Thao | pangt@csufresno.edu |
| Advising & Career Development Center, College of Health and Human Services | Staff | Johana Arellano Guzman | johana4520@mail.fresnostate.edu |
| Advising & Career Development Center, College of Health and Human Services | Staff | Chris Beck | chrisbeck56@mail.fresnostate.edu |
| Advising & Career Development Center, Jordan College | Graduate Assistant | Jessica Jocelyn Loera | loera30@mail.fresnostate.edu |
| Advising & Career Development Center, Jordan College | Graduate Assistant | Ivette Ruiz | iruiz2010@mail.fresnostate.edu |
| Advising & Support Center, College of Arts and Humanities | Staff | Nadia Dwidar | nmargison@csufresno.edu |
| Advising & Support Center, College of Arts and Humanities | Staff | Krista Hall | kristah@csufresno.edu |
| Advising & Support Center, College of Arts and Humanities | Staff | Felicia Salcido | fsalcido@csufresno.edu |
| Advising & Resources Center, College of Science and Mathematics | Staff | Stephanie Covacevich | scovacevich@csufresno.edu |
| Advising & Resources Center, College of Science and Mathematics | Staff | Maipahoua Xiong | mphxiong@csufresno.edu |
| Advising Center, College of Social Sciences | Staff | Isamar Alvarado | isamaralv@csufresno.edu |
| Advising Center, College of Social Sciences | Staff | Joseph Escoto | jescoto@csufresno.edu |
| Advising Center, College of Social Sciences | Staff | Sonya Pena | sonyap@csufresno.edu |
| Advising Center, College of Social Sciences | Staff | Ross Whitton | rwhitton@csufresno.edu |
| Advising Center, College of Social Sciences | Staff, Administrative Assistant | Alexandra Zenther | alexandra.spencer@csufresno.edu |
| Advising Center, Craig School of Business | Staff | Robin Harper | rharper@csufresno.edu |
| Advising Center, Craig School of Business | Staff | Liliana M. Oceguera | loceguera@csufresno.edu |
| Advising Center, Craig School of Business | Staff | Danielle Quiroga | dquiroga@csufresno.edu |
| Anthropology Department | Faculty | Dvera Saxton | dsaxton@csufresno.edu |
| Art and Design Department | Faculty | Laura Huisinga | lhuisinga@csufresno.edu |
| Articulation (University Registrar) | Staff | Erica Lassen | elassen@csufresno.edu |
| CalState TEACH | Staff | Maria Rodriguez Saavedra | mariaro@csufresno.edu |
| Career Development Center | Staff | Nora Diaz | norad@csufresno.edu |
| Chemistry Department | Staff | Crystal Leal | cleal@csufresno.edu |
| Chicano and Latin American Studies Department | Faculty, Chair | Cristina Herrera | cherrera@csufresno.edu |
| Child and Family Science | Faculty | Jessica McKenzie | jmckenzie@csufresno.edu |
| College of Health and Human Services | Staff | Rocio Casillas | rcasillas@csufresno.edu |
| College of Science and Mathematics | Staff, Administrative Support Coordinator | Cecy Beltran | cbeltran@csufresno.edu |
| College of Social Sciences | Faculty, Associate Dean | Bernadette Muscat | bmuscat@csufresno.edu |
| Communication Department | Part-Time Faculty | Elise Barba | ebarba@csufresno.edu |
| Communication Department | Faculty | Diane Blair | dblair@csufresno.edu |
| Communication Department | Faculty | Sergio Juarez | sergiojuarez@csufresno.edu |
| Communication Department | Part-Time Faculty | Judith Scott | jscott@csufresno.edu |
| Communication Department | Part-Time Faculty | Christina Michelle Wells | chwells@csufresno.edu |
| Communication Department/Continuing and Global Education | Faculty, Staff | Tom Boroujeni | tboroujeni@csufresno.edu |
| Continuing and Global Education | Staff | David Hoff | davhoff@csufresno.edu |
| Counselor Education and Rehabilitation (CER) Department | Staff, Administrative Assistant | April Cardiel | acardiel@csufresno.edu |
| Counselor Education and Rehabilitation (CER) Department | Faculty | Dominiqua Griffin | dmg31@csufresno.edu |
| Criminology Department | Staff | Angelica Miramontes | anmiramontes@csufresno.edu |
| Cross Cultural and Gender Center | Staff | Deyanire Del Toro | ddeltoro@csufresno.edu |
| Cross Cultural and Gender Center | Staff, Coordinator | Shimel Her Saychou | ssaychou@csufresno.edu |
| Curriculum and Instruction (CI) | Staff | Brenna Barks | bbarks@csufresno.edu |
| Dean of Students Office | Staff, Director | Tanis Matlock | tmatlock@csufresno.edu |
| Division of Research and Graduate Studies | Staff | Sandra Brooke | sbrooke@csufresno.edu |
| Division of Research and Graduate Studies | Staff, Admin. Assistant | Kimberly Camarena | kcamarena@csufresno.edu |
| Division of Research and Graduate Studies | Staff | Rodrigo Gomez | rodrigog@csufresno.edu |
| Edison High School | Counselor | My Kou Chang | my.chang@fresnounified.org |
| Educational Opportunity Program (EOP) | Staff | Judy Clements | pclements@csufresno.edu |
| Educational Opportunity Program (EOP) | Staff | Angelica Robles-Trinh | aroblestrinh@csufresno.edu |
| English Department | Staff | Lisa Galvez | lgalvez@csufresno.edu |
| English Department | Faculty, Chair | Kathleen Godfrey | kgodfrey@csufresno.edu |
| English Department | Faculty | Ruth Y. Jenkins | ruthj@csufresno.edu |
| English Department | Faculty | Brynn Noelle Saito | bsaito@csufresno.edu |
| English Writing Center | Staff | Adrian Carli | adriancarli@mail.fresnostate.edu |
| Fresno Family Counseling Center | Faculty, Associate Director | Maira Hernandez | mairamh@mail.fresnostate.edu |
| Fresno Pacific University | Staff | Martha Fregoso | martha.fregoso@fresno.edu |
| Geography and City and Regional Planning | Staff | Chelsea Beeson | chelseab92@csufresno.edu |
| Liberal Studies Department | Staff | Ana Espinosa | anae@csufresno.edu |
| Library - Research Services | Faculty | Ginny Barnes | gbarnes@csufresno.edu |
| Library - Research Services | Staff | Karina Cardenas | karina@csufresno.edu |
| Media, Communications & Journalism | Faculty | Adan Avalos | adan@csufresno.edu |
| Media, Communications & Journalism | Part-Time Faculty | Marietta Dalpez | madalpez@csufresno.edu |
| Media, Communications & Journalism | Part-Time Faculty | Kelley McCoy | kmccoy@csufresno.edu |
| Mechanical Engineering Department | Staff | Nimat Davis | nidavis@csufresno.edu |
| Modern and Classical Languages and Literatures | Staff | Vanessa Navarro | vnavarro@mail.fresnostate.edu |
| Modern & Classical Languages and Literatures Department | Part-Time Faculty | Isolina Sands | isands@csufresno.edu |
| Money Management Center | Staff | Charah Coleman | ccoleman@csufresno.edu |
| Office of Institutional Effectiveness (OIE) | Staff | Azucena Gutierrez | azucenarodriguez@csufresno.edu |
| Outreach and Special Programs | Staff | Angie Iribe | angiemiribe@csufresno.edu |
| Philosophy Department | Faculty | Aldea R. Mulhern | aldea@csufresno.edu |
| Political Science Department | Faculty | Nataliia Kasianenko | natkas@csufresno.edu |
| Psychology Department | Staff | Selina Pichardo | spichardo@csufresno.edu |
| Psychology Department | Faculty | Rosa Toro | rtoro@csufresno.edu |
| Rehabilitation Counseling Program | Faculty | Yuleinys Castillo | yacastillo@csufresno.edu |
| Services for Students with Disabilities | Staff | Veronica Aguilar | vaguilar@csufresno.edu |
| Services for Students with Disabilities | Staff | Carlos Manuel Diaz | cadiaz@csufresno.edu |
| Services for Students with Disabilities | Staff | Belen Marquez | belenvera@csufresno.edu |
| Services for Students with Disabilities | Staff | Anna Morales | moralesannag@mail.fresnostate.edu |
| Social Work Education Department | Staff | Claudia Ceja | cceja@csufresno.edu |
| Student Health and Counseling Center | Staff | Ruth Avila | ravila@csufresno.edu |
| Student Health and Counseling Center | Graduate Assistant | Devin Blagg | sblagg@mail.fresnostate.edu |
| Student Health and Counseling Center | Staff | Zenaida Cruz | zcruz@csufresno.edu |
| Student Health and Counseling Center | Staff | Diana Karageozian | dkarageozian@csufresno.edu |
| Student Health and Counseling Center | Staff | Mindy Kates | mkates@csufresno.edu |
| Student Health and Counseling Center | Staff, Coordinator | Kathleen A. Yarmo | kyarmo@csufresno.edu |
| Student Involvement: Student Activities and University Student Union | Graduate Assistant | Gilbert Falcon | gfalcon@mail.fresnostate.edu |
| Student Involvement: Student Activities and University Student Union | Staff | Sophie Karas | skaras@csufresno.edu |
| Student Involvement: Student Activities and University Student Union | Staff, Coordinator | Alejandra Prado | aprado@csufresno.edu |
| Student Involvement: Student Activities and University Student Union | Staff, Administrative Coordinator | Elisa Ramos | elisaramos@csufresno.edu |
| Theater Arts Department | Faculty | Gina Sandi-Diaz | gsandidiaz@csufresno.edu |
| Theater Arts Department | Faculty | Andrew J Waldron | awaldron@csufresno.edu |
| TRiO Central California Educational Opportunity Center | Staff | Art Mota | amota@csufresno.edu |
| TRiO Student Support Services Program (SSSP) | Staff, Director | Eluterio Escamilla | eescamilla@csufresno.edu |
| TRiO Student Support Services- Disabilities | Staff, Director | Luis Flores | luflores@mail.fresnostate.edu |
| TRiO Student Support Services- Disabilities | Staff | Alondra Martinez | martinez_alo@csufresno.edu |
| TRiO Student Support Services-Disabilities | Staff | Connie Vang | connievang03@mail.fresnostate.edu |
| Undergraduate Degree Evaluations (University Registrar) | Staff | Mai T. Chang | mtchang@csufresno.edu |
| Undergraduate Degree Evaluations (University Registrar) | Staff, Coordinator | Estella Gonzalez | esgonzalez@csufresno.edu |
| Undergraduate Degree Evaluations (University Registrar) | Staff | Leticia Herrera | lherrera03@csufresno.edu |
| University Advising Center | Staff | Kathryn Dunbar | kdunbar@csufresno.edu |
| University Advising Center | Staff | Ashley Fagundes | afagundes@csufresno.edu |
| University Advising Center, Dog Days | Staff | Kelci Goss | kelcigoss@mail.fresnostate.edu |
| University Advising Center | Staff | Kathleen Molina | kmmolina@csufresno.edu |
| University Advising Center | Staff | Monica Olmedo | molmedo@csufresno.edu |
| University Advising Center | Staff | Perla Perez-Maciel | pperezmaciel@csufresno.edu |
| University Advising Center | Staff | David Yang | dyang@csufresno.edu |
| University Registrar | Staff | Lety Saavedra | leticias@csufresno.edu |
| Upward Bound | Staff | Mayra Aceves | mayraaceves@mail.fresnostate.edu |
| Veterans Services/University Registrar | Staff, Director, Registrar | Laura Yager | lyager@csufresno.edu |
| Women's Studies Program | Staff | Jeremy Alvarez | jealvarez@csufresno.edu |