Immigration Legal Services
Direct immigration legal services are available free of charge to CSU students and employees. Attorneys and paralegals are available to assist students with general consultations, DACA renewals and general assistance in filling out forms such as family-based petitions. This project aims to serve undocumented students, students with immigration questions, staff, and faculty. The non-profit agency providing legal services to Fresno State is Immigrant Legal Defense (ILD).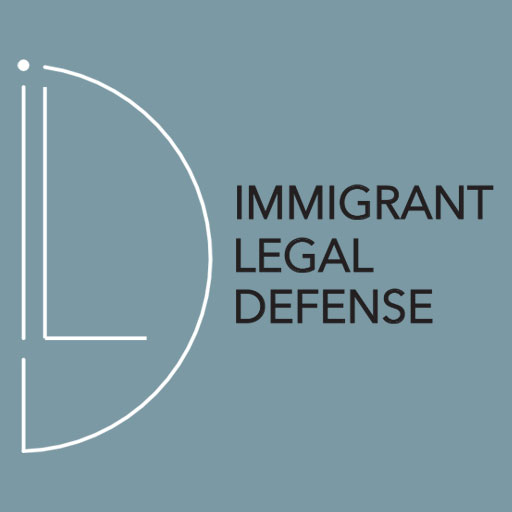 Consultation Dates
January 18 (Virtual)
January 31 (Virtual)
February 16 (In Person)
March 1 ( Virtual)
March 15 (In Person)
March 28 (Virtual)
April 13 (In Person)
April 24 (Virtual)
May 10 (In Person)
May 23 (Virtual)
In person appointments are available from 10:00 a.m. - 4:00 p.m.
Virtual appointments are available from 10:00 a.m. - 4:30 p.m.
Schedule a Consultation
To schedule a consultation with an attorney contact the Dream Success Center Coordinator, Diana at:

dianarea@csufresno.edu
559.278.1554
About Immigrant Legal Defense (ILD)
ILD is a nonprofit agency dedicated to providing immigration legal services to our Fresno State students, faculty, staff and their family members. To learn more about ILD please visit their website.
About Immigrant Legal Defense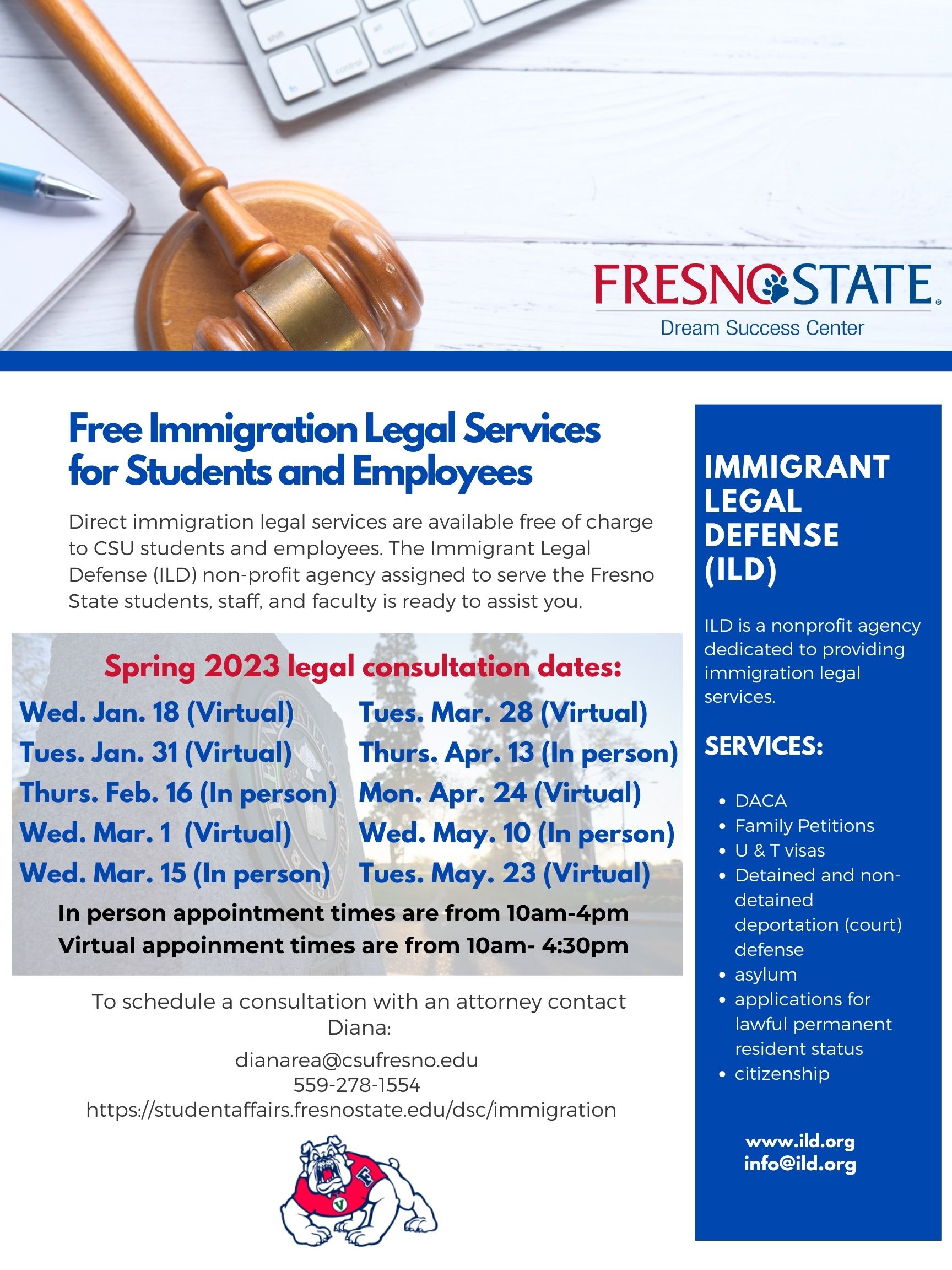 Frequently Asked Questions- Q/A
Who can access the free immigration legal services? Students, staff, faculty & their immediate family members and recent alumni (including parents, siblings, spouse, children, and/or legal guardian).
Is there a cost? No, no one will have to pay for any legal help. Individuals are only responsible for application-related fees.
Do the attorneys speak other languages besides English? Yes, our attorneys speak Spanish and other languages. We also have interpreters and translators available if we don't speak your best language.
How many meetings are included in the service? As many as are needed! Services include an initial meeting with an attorney as well as case representation throughout the length of the entire case.
Do I need to be undocumented to access the free immigration legal services? No, we serve individuals regardless of immigration status. That includes those that are undocumented, have DACA, are residents, citizens, etc.
What type of cases do you work with? Our attorneys can help with DACA, advance parole, family petitions, U visa, T visa, VAWA petitions, immigration court defense (including when someone is detained by ICE), asylum, applications for lawful permanent resident status or green card, citizenship and more!
Can I meet with an attorney if I already met with an attorney in the past or are working with someone else? Yes, Individuals have the legal right to seek a second opinion or change their legal representatives if they wish to do so.