Immigration Legal Services
Direct immigration legal services are available free of charge to CSU students and employees. Attorneys and paralegals are available to assist students with general consultations, DACA renewals and general assistance in filling out forms such as family-based petitions. This project aims to serve undocumented students, students with immigration questions, staff, and faculty. The non-profit agency providing legal services to Fresno State is Immigrant Legal Defense (ILD).
Los servicios legales de inmigración directa están disponibles sin cargo para los estudiantes y empleados de CSU. Los abogados y asistentes legales están disponibles para ayudar a los estudiantes con consultas generales, renovaciones de DACA y asistencia general para completar formularios como peticiones basadas en la familia. Este proyecto tiene como objetivo servir a estudiantes indocumentados, estudiantes con preguntas de inmigración, personal y facultad. La agencia sin fines de lucro que brinda servicios legales a Fresno State es Immigrant Legal Defense (ILD).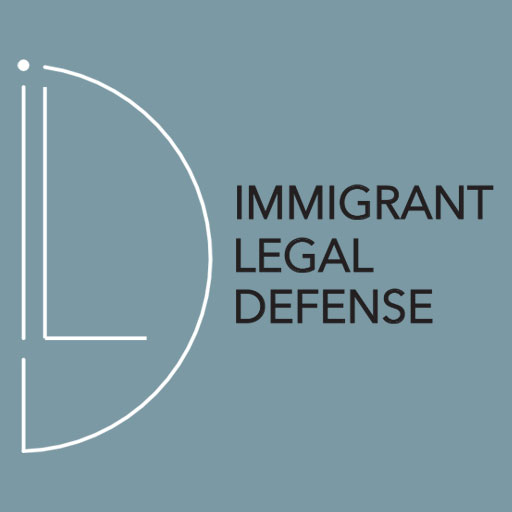 Schedule a Consultation
Programe una Consulta

To schedule an appointment with our legal team, click this link and choose the best time and date that best fits your schedule.

Para programar una cita con nuestro equipo legal, haga clic en este enlace y elija la mejor hora y fecha que mejor se adapte a su horario.



Schedule an Appointment Here
Questions or Trouble Scheduling a Consultation?
If you have any questions or need assistance scheduling an appointment, contact the Dream Success Center Coordinator, Diana at:

Si tiene alguna pregunta o necesita ayuda para programar una cita, comuníquese con la coordinadora del Dream Success Center, Diana en:

dianarea@csufresno.edu
559.278.1554
About Immigrant Legal Defense (ILD)
ILD is a nonprofit agency dedicated to providing immigration legal services to our Fresno State students, faculty, staff and their family members. To learn more about ILD please visit their website. ILD es una agencia sin fines de lucro dedicada a brindar servicios legales de inmigración a nuestros estudiantes, profesores, personal y familiares de Fresno State. Para obtener más información sobre ILD, visite su sitio web.
About Immigrant Legal Defense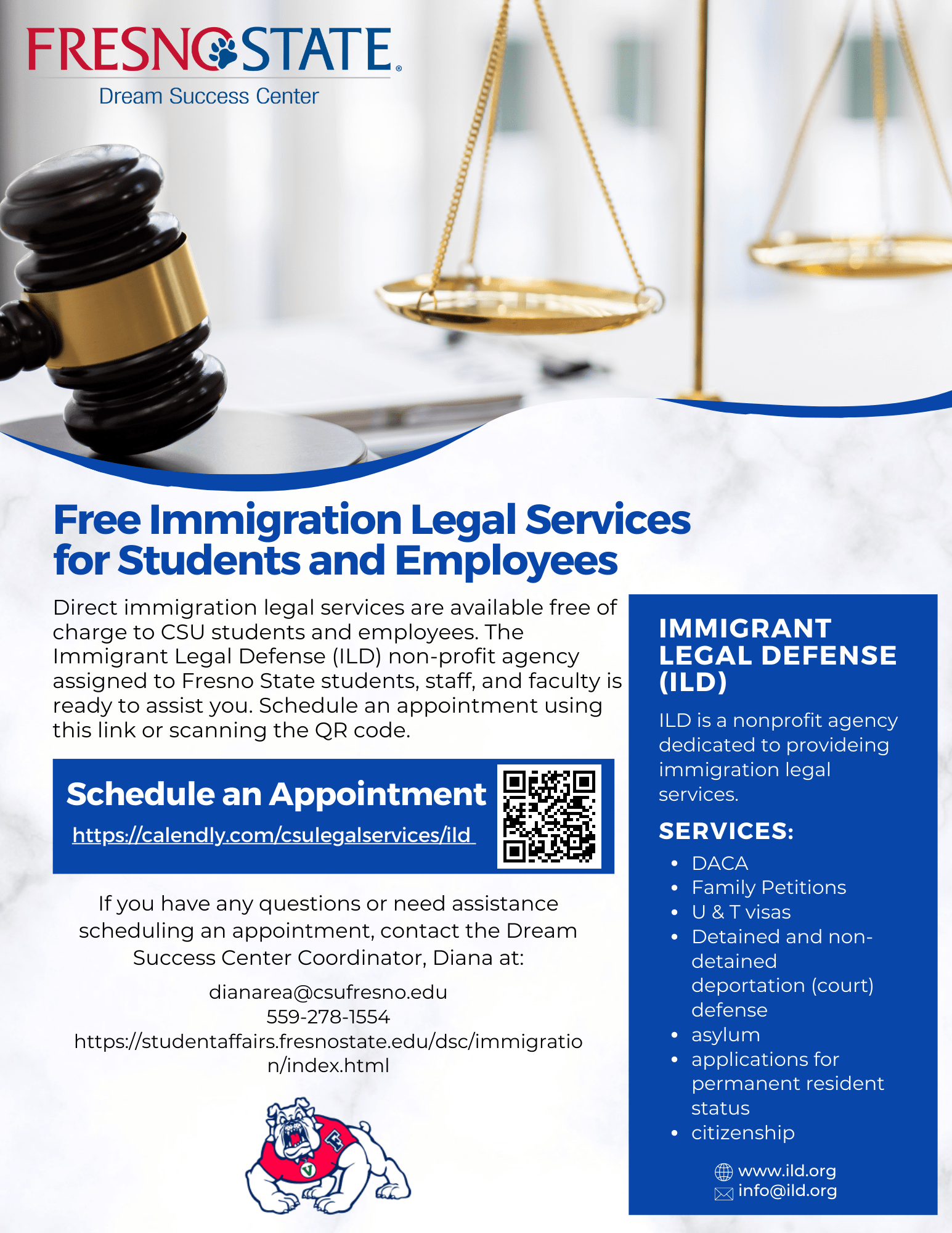 Frequently Asked Questions- Q/A
Who can access the free immigration legal services? Students, staff, faculty & their immediate family members and recent alumni (including parents, siblings, spouse, children, and/or legal guardian).
Is there a cost? No, no one will have to pay for any legal help. Individuals are only responsible for application-related fees.
Do the attorneys speak other languages besides English? Yes, our attorneys speak Spanish and other languages. We also have interpreters and translators available if we don't speak your best language.
How many meetings are included in the service? As many as are needed! Services include an initial meeting with an attorney as well as case representation throughout the length of the entire case.
Do I need to be undocumented to access the free immigration legal services? No, we serve individuals regardless of immigration status. That includes those that are undocumented, have DACA, are residents, citizens, etc.
What type of cases do you work with? Our attorneys can help with DACA, advance parole, family petitions, U visa, T visa, VAWA petitions, immigration court defense (including when someone is detained by ICE), asylum, applications for lawful permanent resident status or green card, citizenship and more!
Can I meet with an attorney if I already met with an attorney in the past or are working with someone else? Yes, Individuals have the legal right to seek a second opinion or change their legal representatives if they wish to do so.