Dream Success Center Staff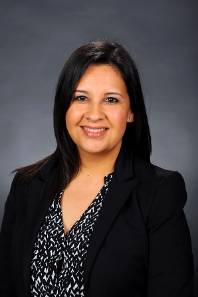 Gaby D. Encinas, M.A., Coordinator
M.A. in Education: Educational Leadership and Administration

E; gencinas@csufresno.edu
Ph: 559.278.1554

Gaby was the first in her family to attend college. She graduated from Fresno State and received her Bachelors in Chemistry and Masters in Educational Leadership. Gaby was born in Guadalajara, Jalisco, Mexico. As a first-generation college student, she knows first-hand what our students go through and has used her experiences to help other students be successful at Fresno State. She is passionate about helping all Fresno State students and uses her networking and collaborative skills to partner with faculty, staff, and departments in providing services to our undocumented student population. Her goal is to grow the Dream Success Center by providing much-needed support, guidance, and advocacy to and for our undocumented students on campus. She has previously worked at Fresno State under the College Assistance Migrant Program, the Jordan College Advising and Career Development Center, Health Careers Opportunity Program, and Louis Stokes Alliance for Minority Participation Program.

Fun Fact: Gaby loves to read non-fiction books and loves going to the movies. Her dream is to visit Europe especially France to continue practicing speaking French.
Favorite Quote: "He who wants to do good knocks at the gate: he who loves finds the door open." - Rabindranath Tagore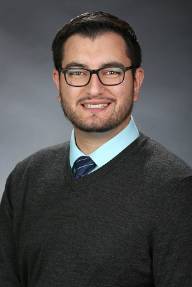 Jose Daniel Gomez Martinez (Danny), M.S.,
Graduate Counseling Assistant
M.S. in Counseling - Student Affairs & College Counseling Option

E: jdanielgomez@mail.fresnostate.edu
Danny was born in Guadalajara, Jalisco, Mexico, and grew up in Buttonwillow and Shafter. Raised in a farm-working family, he participated in the Migrant Education Program throughout middle school and high school. As a Fresno State student, Danny provided over 5 years of service to the farm-working communities of Central California as one of the recruiters for the College Assistance Migrant Program (CAMP) at Fresno State. Also, he was an avid member, officer, and advisor of Fresno State's Teatro Of Raza Towards Involvement in Local Latino Awareness (T.O.R.T.I.L.L.A.), a Latino theater student club. Through his service and student involvement, he developed a passion for advocating, advising, connecting, and mentoring students on their academic journeys at Fresno State. Danny graduated from Fresno State and received his Bachelors in Liberal Studies. Currently, he is pursuing a Master of Science in Counseling option Student Affairs & College Counseling.
Fun Fact: Danny favorite superhero is Spider-Man.
Favorite Quote: "With great power comes great responsibility." - Uncle Benjamin "Ben" Parker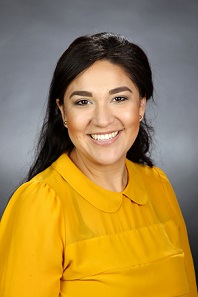 Alejandra Quintero, B.A.,
Academic Advising Intern
1st year Graduate Student, M.S. in Counseling - Student Affairs & College Counseling Option

E: alequintero88@mail.fresnostate.edu
Alejandra was born in Cd. Obregon, Sonora, Mexico and came to the U.S. at 12 years of age. Alejandra is the oldest of four siblings and the first in her family in pursuing a higher education. She attended Palm Desert and Reedley Community College and then transferred to Fresno State where she received her Bachelors in Spanish. Alejandra will be continuing her academic journey to soon obtain her Masters in Student Counseling. As a first-time generation college student, she knows the importance of guidance. Alejandra strongly believes that education is the key for self-growth and knows first-hand that advising matters. She is eager to serve first-generation and low-income students so that they excel in life. She has worked in higher education helping students with their financial and academic needs. She uses her experience to better serve the undocumented student population at Fresno State. Her goal is to become a College Counselor and provide academic, financial, and holistic support to many students reaching for their dreams. She has previously worked at Madera Community College Financial Aid Office. Alejandra has a sense of urgency to help not only students but her community as well. She is part of Trabajadores de la Raza and Club Austral from Fresno State, and a Translator Volunteer for Kids in Need of Defense (KIND).
Fun Fact: Alejandra loves to dance and enjoys Spanish literature. Her goal is to go on a tour of Spain to visit all the beautiful places of history that she has read about in her Spanish classes.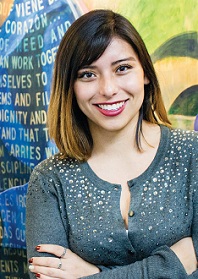 Patricia Ayala Macias, B.A.,
Academic Advising Intern
1st year Graduate Student, M.A. in Educational Leadership and Administration, Higher Education Administration and Leadership (HEAL) pathway

E: ayalamac@mail.fresnostate.edu
Patricia grew up and lived the majority of her time in the Bay Area. Patricia was born in Jalisco, México and migrated with her family to Napa, California at the age of 2. She went to pursue her Bachelor's of Art and Science in Business Administration and Chicano and Latino Studies and minored in Spanish at Sonoma State University. As a former McNair Scholar, she had the opportunity to research Latinx in education and Hispanic Serving Institutions. Her passion for mentoring and advocating for underrepresented and undocumented students stems from her own experience of limited mentorship and guidance in navigating higher education. Patricia's experience in program development, student engagement, and advocacy have led her to work in many different positions in Student Affairs. As a child of an agriculture worker, Patricia understands the challenges of balancing family responsibilities, engaging family in higher education, and navigating two-world views. At Fresno State, Patricia is excited to continue to work with students and continue to develop as a scholar-practitioner.
Fun Fact: I was named Patricia because I was born on St. Patrick's Day
Favorite Quote: "The older I get, the more I'm conscious of ways very small things can make a change in the world. Tiny little things, but the world is made up of tiny matters, isn't it?" By Sandra Cisneros.