Outreach and Special Programs
6/24/2020
This webpage will be updated in the near future to reflect planning for the fall 2020 semester. In the meantime, if you have questions related to Outreach and Special Programs, please contact Martina Granados, martinag@csufresno.edu, 559.278.5374. For questions related to early outreach events and campus tours, please contact Angie Iribe, angiemiribe@csufresno.edu, 559.278.2923. For questions related to the African American Initiative, please contact Wendy Nelson, wendyw@csufresno.edu, 559.278.2038. For questions related to the Native American Initiative, please contact Amber Esquivel, esquivelamber@csufresno.edu, 559.278.4430.
Events
Annual Lao American Educational Conference (ALEC)
The Annual Lao American Educational Conference at Fresno State will be hosted by the Laotion American Community of Fresno (LACF) and Outreach and Special Programs. This conference provides an opportunity to bring the Lao American students together to celebrate a day of learning, growing and empowering one another.
Dream Counselor's Conference
The Dream Outreach Center will be holding a conference in which topics such as Immigration Services Resources Fair, CA Dream Legislation Update, CSU Application Process, Residency Documentation and updates on Immigration will be discussed.
Summer Algebra Institute
Be on the look out for more information coming soon for Summer 2021. Churches and or community partners that are interested in being a site for the institute can contact Wendy Nelson at (559) 278.2038.
Super Saturday Academies
Super Saturday College Academies are monthly 2 1/2 hour college readiness sessions that will target MS, HS, and parents regarding various topics that will better equip them as they prepare for college and beyond. The various SS sessions will be hosted at various African American churches and community centers during the Fall and Spring academic year. The recently hosted Super Saturday AA College and Career Summit (Oct. 27th) was the "kick-off" event for the year round engagement. Updates on the next Saturday academy TBA.
Native American Youth Conference
The Native American Youth Conference has been hosted by the Native American Initiative since 2016.The one-day conference is held at CSU, Fresno and takes place in the month of September around California Native American Day with a target of 6th-12th grade Native American students. The conference will provide an opportunity for students to explore the pathways towards higher education, application admissions information, financial aid, cultural presentations, and campus resources. This event will take place via Zoom for a virtual experience, please view the conference website for registration, agenda, and contact!

Feria de Educación
Feria de Educación is a community fair held for students and their parents to participate in workshops held in Spanish. The workshops provide information and community resources that support college readiness. Visit the Feria de Educación site for more info, updates and a recap from last year's Feria. The 2020 event date is TBD.
Super Saturday
The African American Initiative (AAI) will be collaborating with various churches for the CSU Fresno Super Saturday. Super Saturday is an African American College and Career Fair for Middle School, High School, Community College students. Community members are also encouraged and welcome to attend this mega event.
Chicanx Youth Conference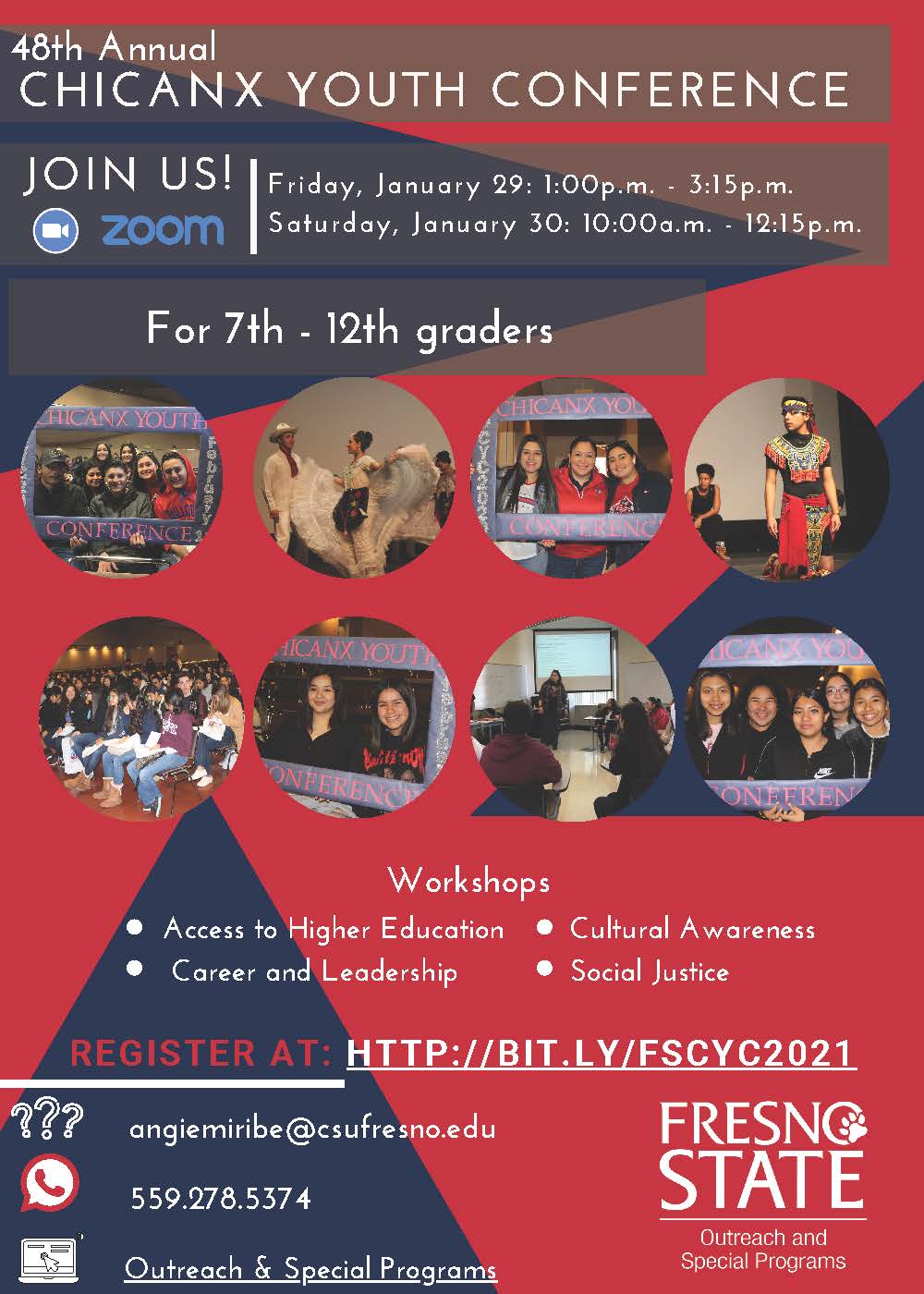 On Saturday in January/February of 2021, we will host the Chicanx Youth Conference where middle school and high school youth can come on campus and learn about Higher Education, Social Justice, Careers & Leadership, and Cultural Awareness.This is a free event .We will have more information available soon.
Super Sunday
Super Sunday is a CSU program to connect with and inform African American students and their families about what it takes to get into college and higher education.
On a Sunday in February, CSU leaders including the chancellor, trustees, presidents, and other higher education ambassadors will speak at various churches in our community and across the state to share information with students, parents, and community members about preparing for college, applying to a CSU campus, and financial aid.