Admissions and Recruitment
Help with Application
Apply to Fresno State
Fresno State accepts fall term applications for First Time Freshmen and Transfer students from October 1 - November 30, through Cal State Apply, the application for all CSU campuses. *Please note Transfer students my apply for spring admission term between August 1- 31, if the university is open for admission. Learn more about application terms by visiting our "Apply" webpage.
Apply Now
Fall 2023 On Campus Application Workshops
Need help completing your Cal State Apply application to Fresno State? Our counselors will be available to answer your questions and guide you through the application. RSVP is required for these workshops.

Workshop Dates

Saturday, October 29, 2022
Saturday, November 5, 2022
Saturday, November 19, 2022

Register Here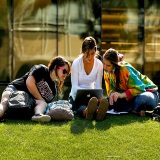 Application Help Center
Great started with your Cal State Apply application: Review freshman/transfer application and coursework entry guides and more.
The following guides can help you through the application:
First Time Freshmen Application Guide (High School)
Transfer Student Application Guide
Cal State Apply Transfer Application Videos
---
Transfer students, are you looking for a Cal State Apply application workshop at your community college? Here are the links to your transfer centers in our local area