Outreach and Special Programs
Fresno State Feria de Educación
Evento GRATUITO, no se requiere registracion.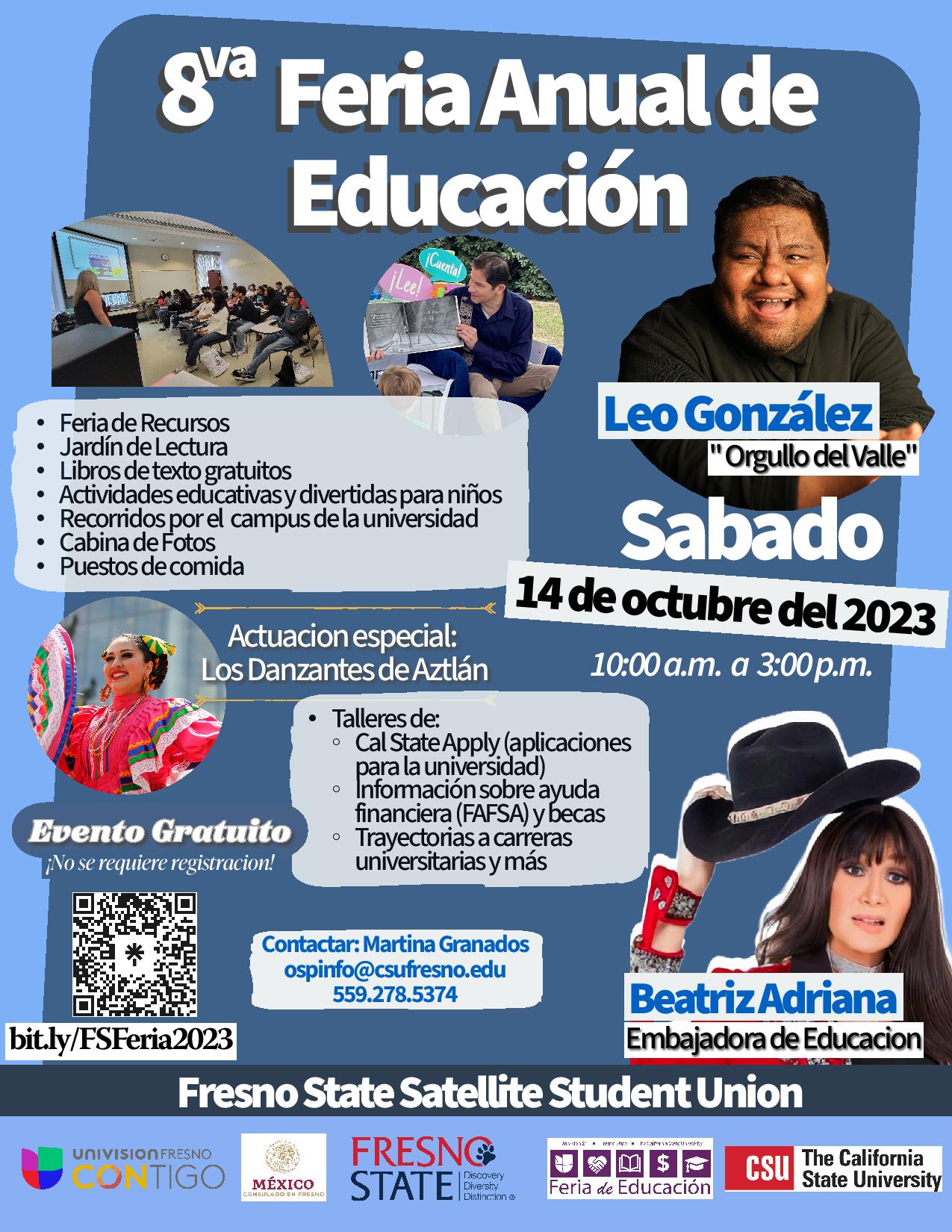 This is a FREE event for the public, no registration required.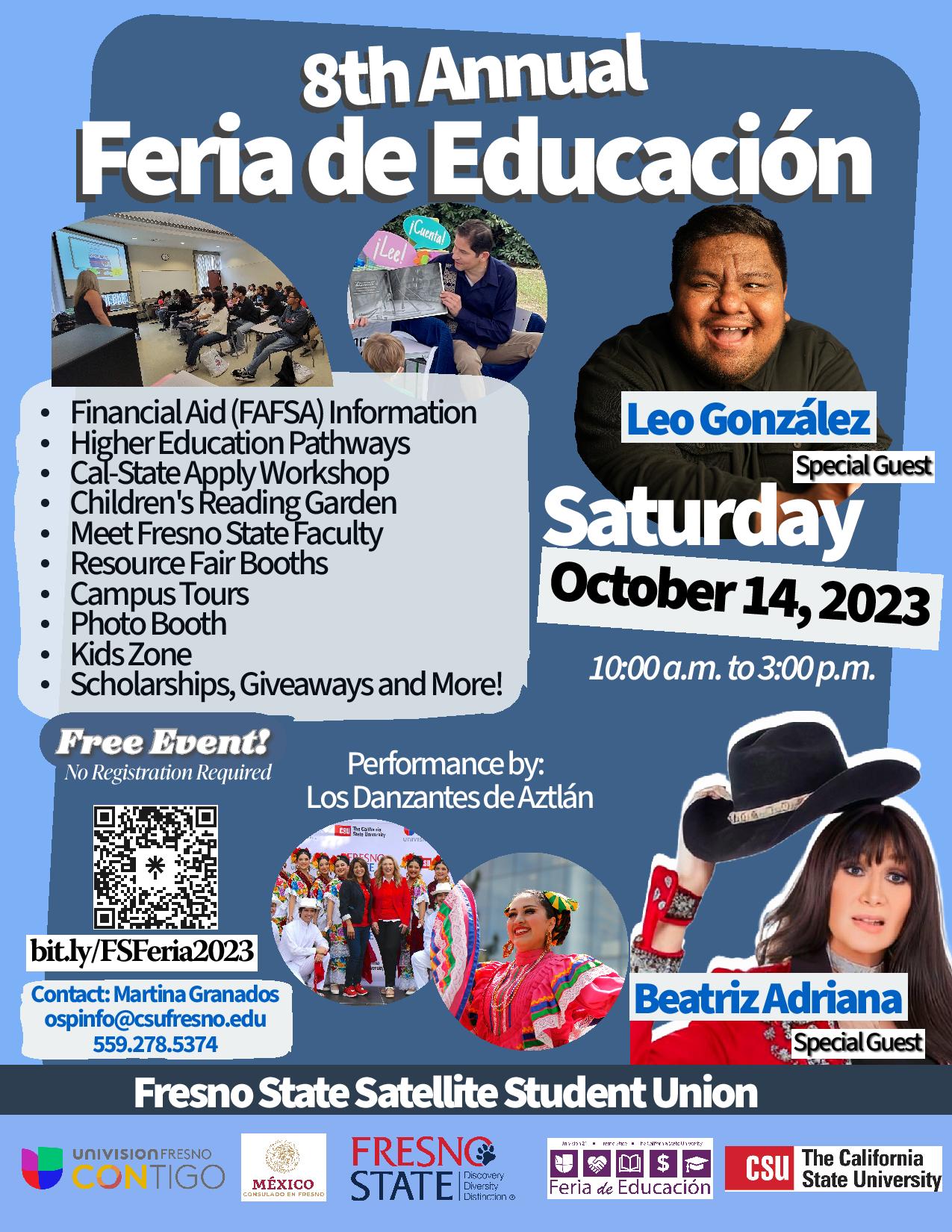 ---
Fresno State Feria Linktree
Take a look at our Fresno State Feria Linktree that will hold all links related to Feria de Educación.

Vendor Registration application: deadline is Fri. Oct. 6, 2023
Volunteer Sign Ups: deadline is Mon. Oct. 2, 2023
Fresno State Feria de Educación website
Social media links
Contact us
linktr.ee/fresnostateferia
View more!
2023 Vendor Registration Form
We'd like to welcome exhibitors to the resource fair. Colleges, non-profit, and for profit booths are welcome to attend. All vendor booths will be provided the following: one 6ft table, 2 chairs and 2 waters.
*Bring your own tablecloth/canopy (Per University policy, canopies must be fire retardant and weighed down using sandbags, water jugs, bricks, etc. Note: Garden stakes are not permitted.) Exhibitors may start setting up on Saturday, October 14, at 8:30 a.m. Exhibitors must be ready to greet guests at 9:45 a.m. and can start breaking down at 2:30 p.m.
*Please consider donating a gift basket that will be given to attendees during the opportunity drawing. Items can be dropped off to the office of Outreach and Special Programs (University Center 125 at Fresno State) from Oct. 9-12th.
Deadline to submit vendor registration booth: Friday, October 6, 2023 by 5:00 p.m. No refunds beyond this deadline.
Vendor Registration Form (paying with a Credit/Debit card only)
Volunteer Sign Ups
Volunteers are needed to help support Fresno State Feria de Educación! Sign up by Mon. Oct. 2, 2023.

Some areas of need are:

Friday set up
Saturday morning set up
Photo Booth
Information Booth
Resource Fair
Workshops
Reading garden
Water station
Bus welcome crew
Floater: will be assigned duties as needed.
Volunteer Sign Ups
Food Trucks
FREE bottles of water will be on site for all guests during the event.

Cocula Taqueria

Tortas
Tacos
Quesabirrias orden de 2 con consomé
Burritos
Sopes
Quesadillas
Birria Ramen
Asada Fries
Nachos
Aguas Frescas
Sodas lata

El Patron Autentica Birria Y Comida Mexicana:We accept card and cash transactions.

Loaded Nachos
3 Street Taco Plate
Vegetarian Nachos
3 Quesatacos with consomé
Agua Fresca's

Piña (Pineapple)
Blue Raspberry Lemonade

Gonzalez Taqueria will have their food truck on site during the event! Plan to bring around $12 plus tax for meals.

Tacos
Burritos
Asada Fries
Sopes
Nachos
Quesatacos
Tortas
Quesadillas
Gorditas
Bacon wrap hot dogs
Hamburgers and fries

On campus dining will be available from 10 a.m. to 3 p.m.

Subway
Panda Express
Union Snack Bar
---
About Feria
The purpose of Feria de Educación is to empower thousands of Spanish-speaking parents and students by providing them with information and resources to help them succeed in California's educational system, attend post-secondary education, and attain their professional goals.
Goals and Objectives
Provide a culturally sensitive environment for Spanish-speaking parents with children of all ages.
Bridge the cultural gap between Spanish-speaking parents and California's educational system.
Provide information and resources (in Spanish and English) from pre-school to higher education aimed at increasing the college-going culture among the Latino population.
Provide a variety of career paths and alternatives in a diverse range of fields.

Outreach and Special Programs would like to thank key collaborators and supporters responsible for the success of Feria de Educación including the California State University (CSU), Fresno Univision, the Mexican Consulate, Parent Institute for Quality Education, Merced County Office of Education Migrant Education Region III, Tulare County Office of Education Migrant Education Program Region VIII, Migrant Education Region IV, Fresno County Superintendent of Schools, Fresno State's Educational Talent Search, Clovis Community College, Fresno City College, Assemblymember Dr. Joaquin Arambula's Office and Fresno Unified School District.
Archived Flyers and Programs