Student Health and Counseling Center
Get Involved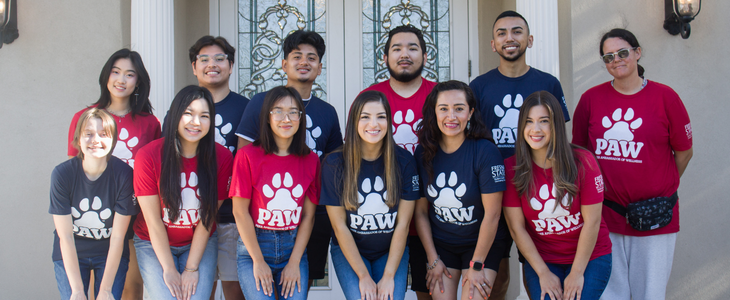 Help Build a Healthier Fresno State
To learn more about opportunities to get involved and how to apply, click the links below. You can also follow us on Facebook, Twitter and Instagram @FSHealthCenter where we'll share more ways to get involved.
For more information on volunteer opportunities, contact Melissa Norris at melissaw@csufresno.edu.
Volunteers are needed for our upcoming Mental Health Screening Day on Thursday, March 9 from 8:30 a.m. to 4:30 p.m. Volunteer tasks include distributing posters, presenting to classes and student organizations, sharing on social media, event day set-up and clean-up, greeting, and assisting with tabling and outreach.
Sign-up to volunteer by Tuesday, February 28.
All volunteers must attend a mandatory orientation. Details are in the sign up link above.
Peer Ambassadors of Wellness (PAWs) are responsible for promoting the health and well-being of our Fresno State students.
PAW Volunteers:
Develop and implement activities and campaigns on a variety of topics, including: stress, anxiety, depression, nutrition, physical activity, food security and basic needs.
Engage in conversations around health and wellness through the PAWdcast
Serve as coaches and mentors to individuals participating in our 360 Wellness Challenge.
Facilitate classroom presentations on stress management
Support the semi-annual one-day Wellness Retreat
Use social media as a tool to promote health and wellness programming to your peers
Make a one-year commitment serving an average of 3-5 hours weekly throughout the Fall 2023 and Spring 2024 semesters.
Attend mandatory weekly meetings (1 hour) every Monday at 12:00 p.m.
All volunteers must maintain a 2.0 minimum semester GPA throughout the application process and throughout the 2023-24 academic year.
The Student Health Advisory Committee (SHAC) is responsible for representing student voice in issues related to health and wellness.
SHAC Members:
Provide recommendations to administration regarding the operations and services of the Student Health and Counseling Center (including Counseling, Medical and Wellness Services)
Assess campus climate and represent student voice on issues related to health and wellness
Serve alongside university staff, faculty and administration
Make a one-year commitment serving 3-5 hours monthly
Attend monthly meetings and support special project initiatives
All volunteers must maintain a 2.0 minimum semester GPA throughout the application process and 2020-21 academic year. Previous leadership or advocacy experience is preferred.
Check back in April 2023 to learn how YOU can join SHAC!