Student Support Services Veterans
News and Resources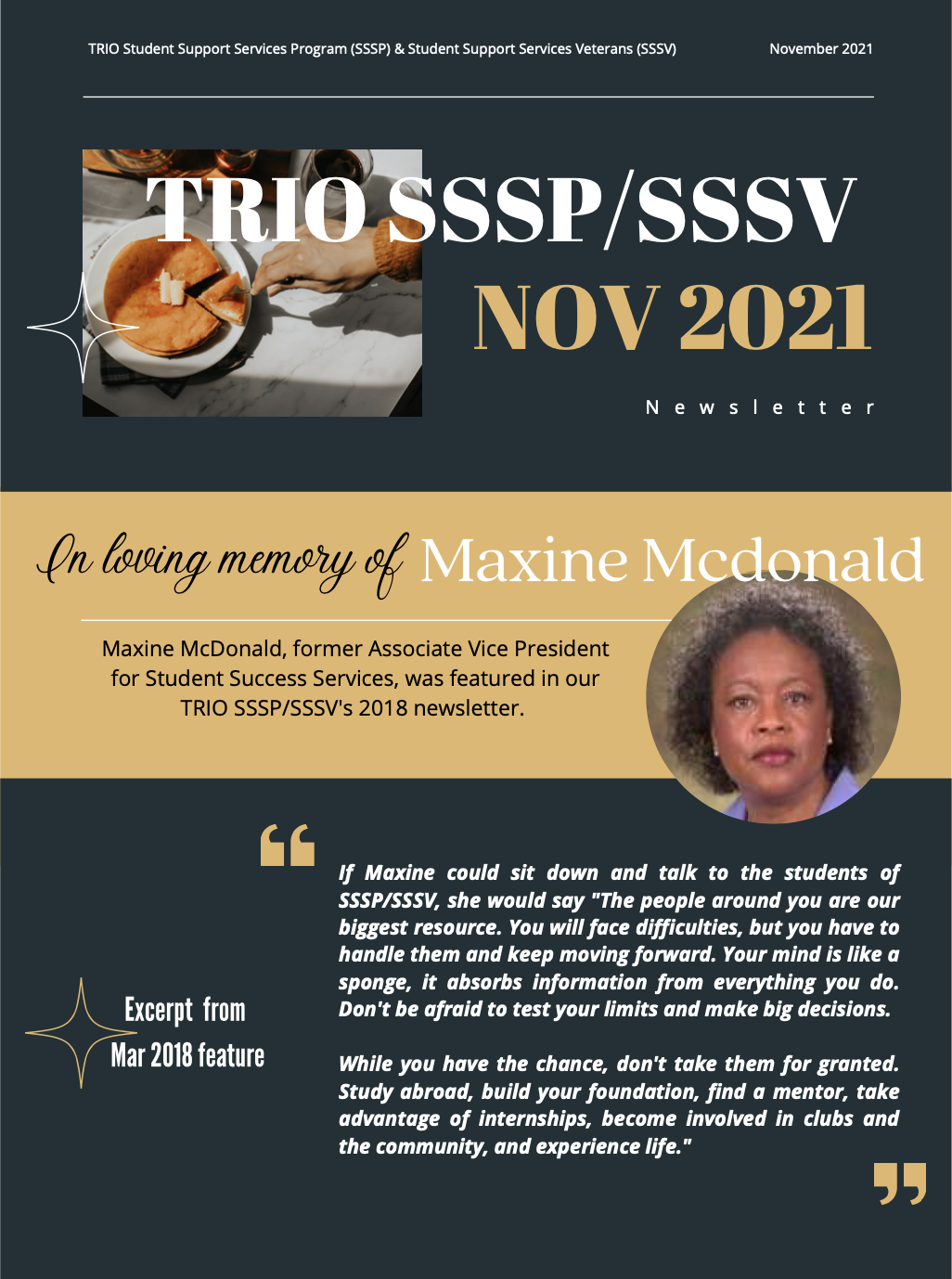 View Newsletter as PDF
On-Campus
559.278.2811
http://fresnostate.edu/studentaffairs/ssd/
Services for Students with Disabilities (SSD) provides a wide range of academic accommodations to students with verified disabilities who have registered with the SSD office. Services for each student are determined on a case-by-case basis.
559.278.2734
http://fresnostate.edu/studentaffairs/health/
The Student Health and Counseling Center (SHCC) encourages the maintenance of healthy lifestyles and provides affordable and accessible health and psychological care to all Fresno State students. In addition to diagnosing and treating illnesses and injuries, our services include (but are not limited to): Medical Exams, Physical Therapy, Immunizations, Nutrition Counseling, Sexual Health Services, Counseling Services & Psychiatry, On-site X-Ray, Pharmacy & Laboratory.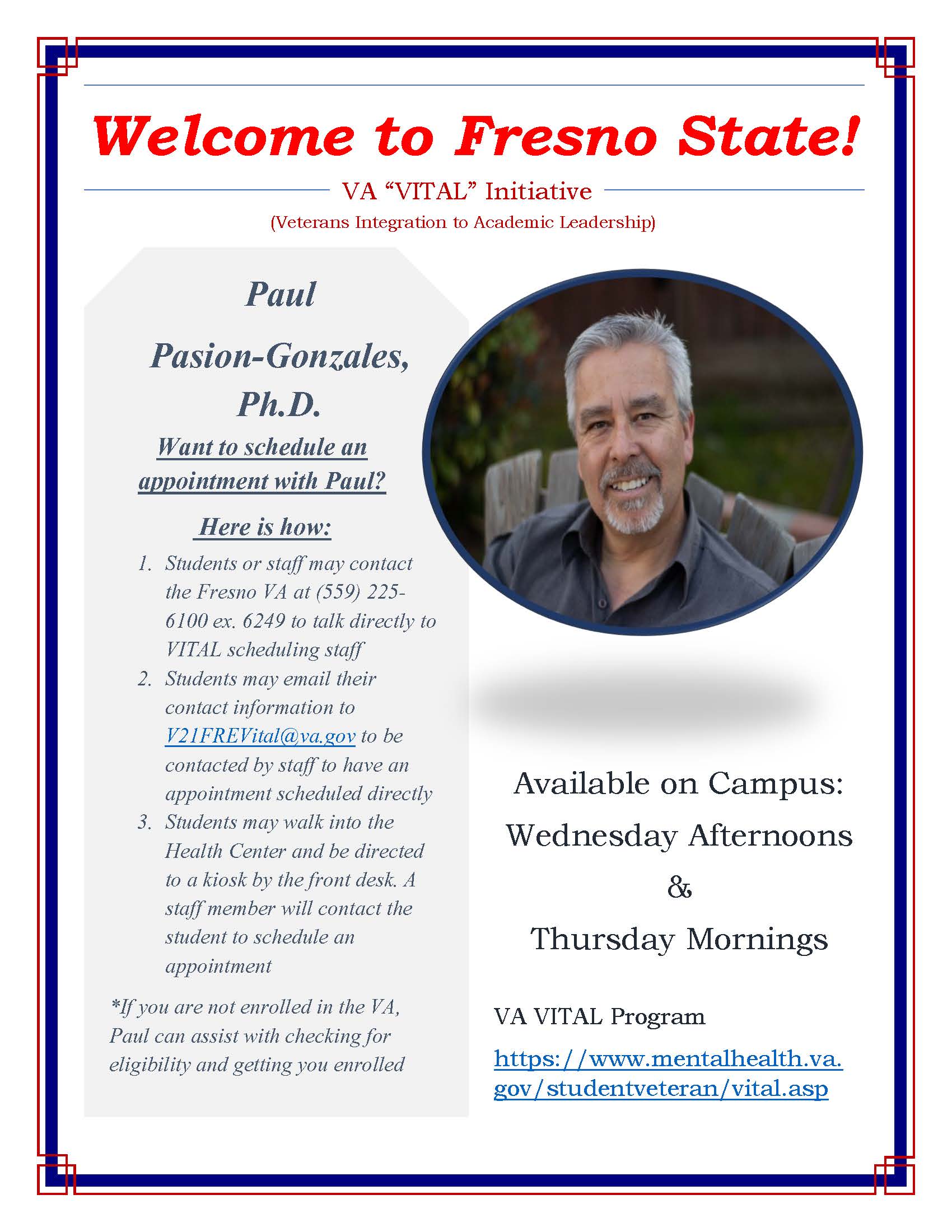 Off-Campus
Each year, about 200,000 service members leave the military to seek fulfilling careers in the civilian world. ACP Mentors have helped almost 13,000 veterans tackle the move from the military to the civilian workforce!
To learn more and to apply for a Mentor, please visit ACP's website or call (212)752-0700. Please note that you were referred by California State University, Fresno.
559.706.6270
Connects California Veterans and their families to their educational, employment compensation and pension claims, healthcare, housing, and state benefits.
559.445.6744
The Employment Development Department (EDD) assists veterans and their eligible spouses to maximize their employment and training opportunities. Veterans are entitled to many resources designed to help in their search for employment.
559.600.5436
Fresno County Veterans Services provide a vital and efficient system of services to veterans, their dependents, survivors and partners who lose a son or daughter in military service. These services consist of filing accurate claims in obtaining benefits/entitlements from the U. S. Department of Veterans Affairs (VA), Department of Defense (DOD), state and local programs. We are dedicated in providing these services in a professional and respectful manner.
559.487.5660
Offers transitional counseling for combat veterans for the entire Central Valley. Individual and family counseling for veteran men and women.
844.OHD.VETS (844.643.8387)
Non-profit organization comprised of volunteers representing retired and former military and great Americans, who proudly support our Nation's Heroes: Veterans, Gold Star Families, First Responders and Correctional Officers. Our mission is to improve the lives of our warriors and their families, by helping them to accomplish their dreams, that they otherwise wouldn't be able to accomplish because of their disabilities or experiences.
559.255.8838
Crisis 559.486.VETS
Offers assistance and case management to veterans in need. Services we provide include transportation assistance, haircut and clothing vouchers, snacks, computer access for job searches, place to network with other veterans, educational classes, and housing counseling and assistance.
559.225.6100
VA Central California Health Care System (VACCHCS), located in Fresno, California, is part of VA Sierra Pacific Network (VISN21), which includes facilities in California, Nevada, and Hawaii. VACCHCS is a 57-bed acute care, general medical and surgical center with state of the art primary, secondary and tertiary care in major diagnostic, and treatment specializations. In addition, a 54-bed Community Living Center (CLC) is located on campus and provides skilled nursing and rehabilitation care.
Military Credit
Information Links