University Advising Center
Academic Probation and Disqualification
An undergraduate student must maintain a 2.00 grade point average (GPA) in both campus (all coursework taken at Fresno State) and cumulative (total) GPA (all coursework attempted at allcolleges) to remain in Good Standing. If a student's campus or cumulative GPA falls below a 2.00, they will be placed on academic probation or academic disqualification.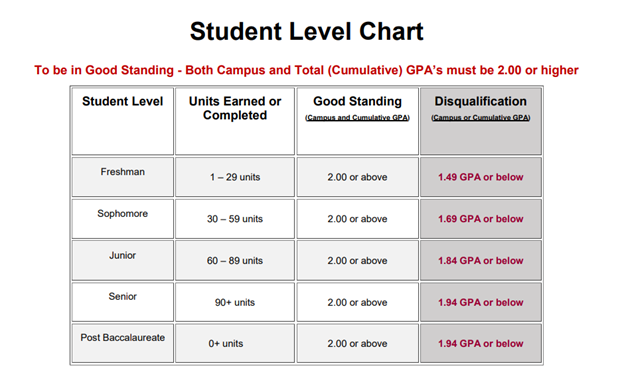 Title 5, CA Code of Regulations, Section 41300; CSU Executive Order 1038
Undergraduate students who have been academically disqualified are encouraged to contact the University Advising Center in Joyal Administration Building, room 224 or call (559) 278-1787 regarding the Steps for Readmission.
Graduate students should contact the Division of Research and Graduate Studies in the Thomas Administration Building, room 130 or call (559) 278-2448 regarding academic probation or disqualification.
For questions regarding academic probation or disqualification, please email at probation_disqualification@mail.fresnostate.edu.