Admissions and Recruitment
Go Bold! Go eTranscripts!
Fresno State accepts electronic official transcripts directly from many colleges and universities. By requesting and sending etranscripts the admissions office will expedite the processing and review of your transcripts.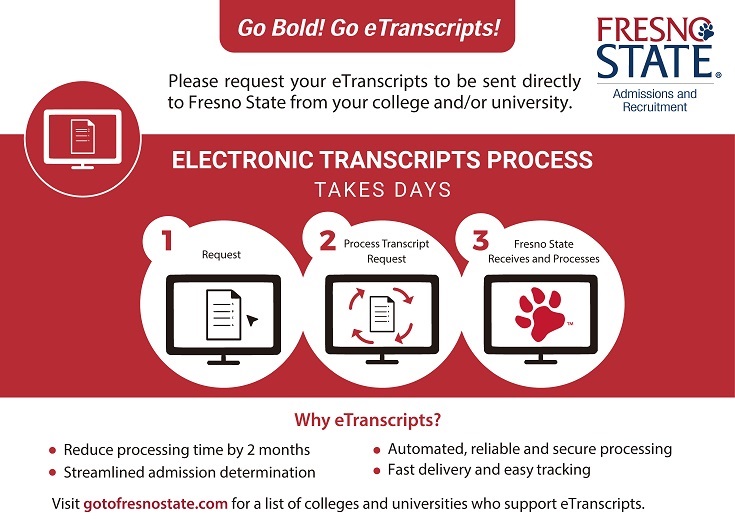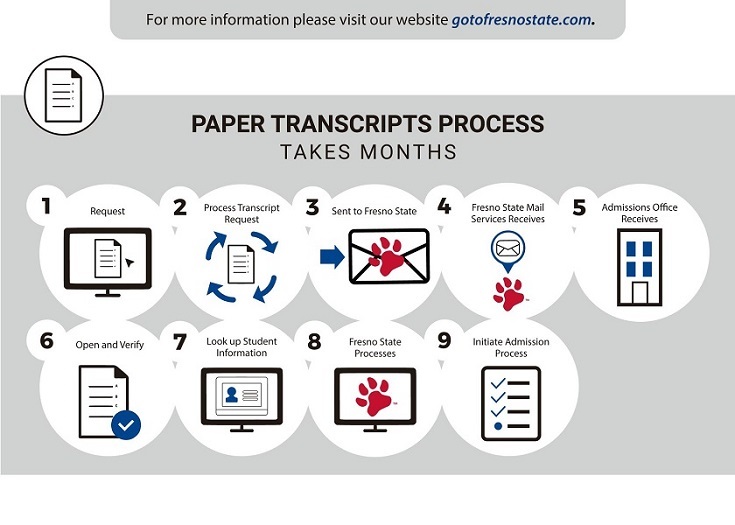 Fresno State will accept only electronic transcripts from the schools listed below. Please be sure to indicate this preference when making your request.
American River College
Antelope Valley College
Bakersfield College
Berkeley City College (Peralta Community College District)
Butte College
Cabrillo College
Cal Poly State University
Cañada College
Cerritos College
Cerro Coso Community College
Chabot College
Chaffey College
City College of San Francisco
Coastline Community College
College of Alameda (Peralta Community College District)
College of Marin
College of San Mateo
College of the Canyons
College of the Desert
College of the Redwoods
Contra Costa College
Cosumnes River College
Crafton Hills College
CSU Bakersfield
CSU Dominguez Hills
CSU Long Beach
CSU Monterey Bay
Cuesta College
Cuyamaca College
Cypress College
De Anza College
Diablo Valley College
East Los Angeles College (Los Angeles Community College District)
El Camino College
Evergreen Valley College
Folsom Lake College (Los Rios Community College District)
Foothill College
Fresno Pacific University
Fullerton College
Gavilan College
Glendale Community College
Golden West College
Grossmont College
Imperial Valley College
Irvine Valley College
Lake Tahoe Community College
Laney College (Peralta Community College District)
Las Positas College
Lassen College
Long Beach City College
Los Angeles City College (Los Angeles Community College District)
Los Angeles Harbor College (Los Angeles Community College District)
Los Angeles Mission College (Los Angeles Community College District)
Los Angeles Southwest College (Los Angeles Community College District)
Los Angeles Trade-Technical College (Los Angeles Community College District)
Los Angeles Valley College (Los Angeles Community College District)
Los Medanos College
Mendocino College
Merritt College (Peralta Community College District)
MiraCosta College
Mission College
Moorpark College (Ventura County Community College District)
Mount San Antonio College
Napa Valley College
National University
Ohlone College
Orange Coast College
Oxnard College (Ventura County Community College District)
Palo Verde College
Palomar College
Peralta Community College District
Pierce College (Los Angeles Community College District)
Riverside City College
Sacramento City College
Saddleback College
San Bernardino Valley College
San Diego City College (San Diego Community College District)
San Diego Mesa College (San Diego Community College District)
San Diego Miramar College (San Diego Community College District)
San Francisco State University
San Jose City College
San Jose State University
Santa Ana College (Rancho Santiago Community College District)
Santa Barbara City College
Santa Monica College
Santa Rosa Junior College
Santiago Canyon College (Rancho Santiago Community College District)
Shasta College
Sierra College
Skyline College
Solano Community College
Southwestern College
Taft College
UC Berkeley
UC Merced
University of Phoenix
Ventura College
West Los Angeles College (Los Angeles Community College District)
West Valley College
For colleges that do not supply electronic transcripts, the school should send the transcripts directly to:
Admissions Office
California State University, Fresno
5150 North Maple Avenue M/S JA 57
Fresno, CA 93740-8026