Admissions and Recruitment
Information for Counselors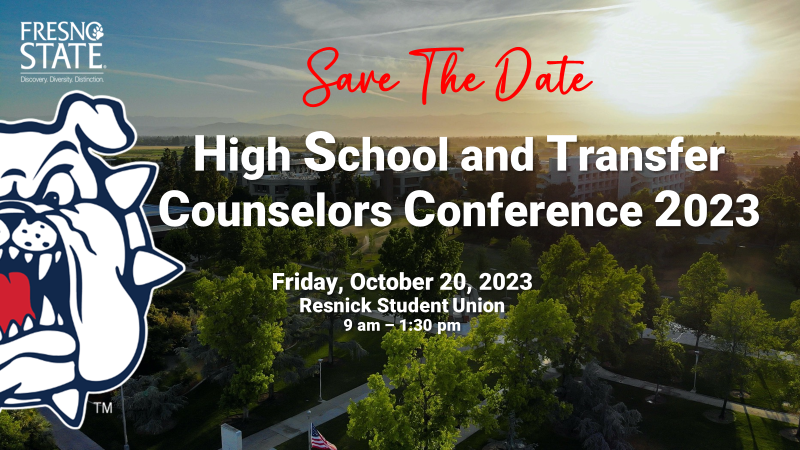 Get connected, up to date, and informed about the latest admissions requirements, campus life, academic programs and more.
Register Here
Fresno State Fall Recruitment Event Schedule
Fresno State undergraduate student recruitment team is on the road again presenting at college fairs, conferences, visiting community college and high schools throughout California, and hosting application workshops for all those interested in applying for admission to Fresno State.
View Recruitment Schedule
Our menu of services for schools and counselors include the following:
We provide admission and academic program presentations to your classrooms to assist them with their college decision.
We offer campus tours for large groups so your students can become acquainted with our campus.
We offer application workshops to help students submit a complete and accurate application for Fresno State.
We assist students with the required steps so they can enroll at our university.
We provide support to counselors with information they have regarding admission, academic programs, student services, and student life to keep them updated with the university.
We provide information to counselors to help students with the completion of their application for the university.
We provide various admission and enrollment report to counselors pertaining to their school.
We offer Fresno State counselor conferences and forums in both fall and spring to provide them with the latest information.
We provide some on-campus academic college workshops for counselors to acquaint them with our programs.
We attend college and career fair events hosted by your schools to assist them with questions they have about our university.
We provide materials for events and career and guidance centers to help students with their college exploration.
Note: Although we consider all school visitation requests, we may or may not be able to accommodate based on the availability of representatives assigned to your area. Other services pertaining to prospective students not listed above can be discussed by contacting our office at 559.278.2048
Helpful Resources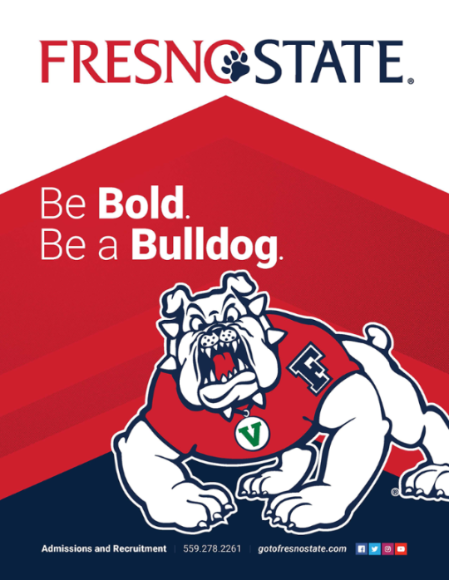 Fall 2024 Admissions Guide
Fresno State is a vibrant, diverse and award-winning university. Use our guide to assist you in taking the next step in becoming a Fresno State Bulldog.
Download Spring 2023 Transfer Critical Dates Postcard
Download Fall 2023 Transfer Critical Dates Postcard
Download Fall 2023 Freshmen Critical Dates Postcard