Campus Involvement Ambassadors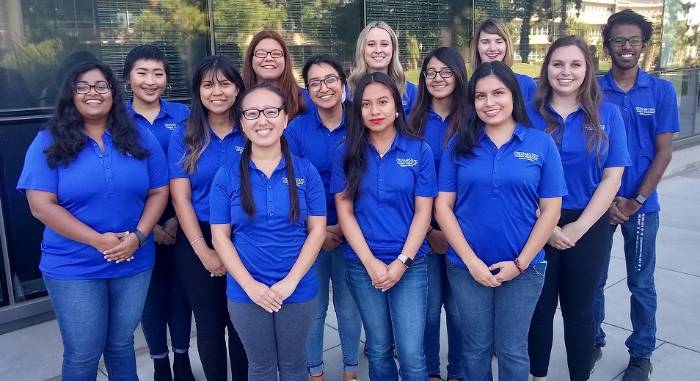 Looking for ways to enhance your college experience? Get involved! Not sure where to start? Contact one of our helpful Campus Involvement Ambassadors at leadershipcenter@mail.fresnostate.edu and let them help find the right fit for you!
Campus Involvement Ambassadors are your peer advisors to help find the right clubs, organizations, and other involvement activities that fit your interests and personal development goals. When you meet with a Campus Involvement Ambassador, you will get accurate and helpful information from someone who has already navigated the system, actively participates in various involvement opportunities, and has found the best ways to be involved.
READY TO GET STARTED?
Great! Just visit the link below:
1) Fill out the Involvement Interest form HERE
Once you have submitted your form, you will be prompted to schedule an interest session with a CIA.
MEET YOUR CAMPUS INVOLVEMENT AMBASSADORS!
Major: Sociology
Angelica is a fourth year student at Fresno State! She plans on enrolling into the Master's Program in School Counseling. She loves stickers, pugs, and playing video games. This year she plans on exploring nature more by visiting California's national parks and beaches. This is her second year being a Campus Involvement Ambassador and she cannot wait for what this year brings!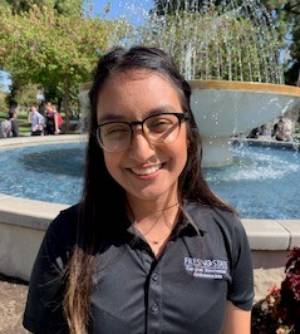 Major: Higher Education Administration and Leadership
Devin graduated from Fresno State with a B.A. in Liberal Studies and loved Fresno State so much, she wanted to stay a Bulldog for her graduate education as well! She is about to start her second year in the M.A. Education program, with an emphasis in Higher Education Administration & Leadership. Devin loves going to baseball and hockey games and going out to eat with her friends! She is so excited to be a CIA and can't wait to meet you!
Major: Business-Marketing and Media, Communications, and Journalism-Public Relations
Minors: Women's Studies, Philanthropic and Community-Based Leadership, and Asian American Studies
Belle is a proud native Fresnian. She's a fifth year double majoring in Business-Marketing and Media, Communications, and Journalism-Public Relations with three minors in the Social Sciences. Belle is committed to encouraging students like you to get more involved--whether it be through academics, clubs and organizations, and many more opportunities! Sign up for an appointment today, and Belle or any of the amazing CIAs will help you on the path to getting more involved.
Major: Pyschology
Minor: Sociology
Kassandra was born in Peru and came to the U.S. at the age of three. She currently lives in Fresno, CA while pursuing a B.A. in Psychology and a minor in Sociology. She plans on attaining her Master's degree in Student Affairs and College Counseling. She dreams of becoming an Academic Counselor and inspiring the Central Valley's next generation of leaders. Kassandra loves to get involved and leave her mark at Fresno State! She is a current member of the Student Health Advisory Committee (SHAC) and a member of the Phi Kappa Phi and Psi Chi Honor Societies. Kassandra enjoys traveling and exploring new places she hasn't seen before. On her time off, Kassandra enjoys listening to her favorite podcasts and volunteering at on-campus events. She is excited to serve as a Campus Involvement Ambassador and help students enhance their collegiate experience!



Major: Liberal Studies
Nathalie was born in Bakersfield, CA and raised in Fresno. She attended Fresno City College, received her Associate's Degree and is a first year transfer student at Fresno State. Nathalie's major is Liberal Studies, and she wants to become an elementary school teacher. Outside of school, Nathalie enjoys traveling, photography, being in nature, and spending time with her dog. She also loves llamas! Nathalie is excited to be a future Campus Involvement Ambassador and looks forward to helping students feel part of the Fresno State family.


Major: Sociology
Sam loves her small hometown, Selma CA, which is one of the surrounding cities in the Fresno area. She is currently a third year, Sociology major and plans to pursue her Masters in Student Affairs and College Counseling! She loves being involved on campus because she strongly believes a student's college experience is all about what they make of it; the more involved on campus the better! During her free time, Sam likes to walk around stealing sunflowers in the sunset and take long walks on the beach after trying not to stress herself out from studying! She is looking forward to meeting with students as a Campus Involvement Ambassador to help them find their right fit on campus and start getting involved as well!
Major: Computer Science
Sanjay is an International student from Sri Lanka who has been living in Fresno for 5 years. He is a second year graduate student and is here to help you get more involved at Fresno State!
Major: Criminology
Yeng was born in a small un-named village town in the mountains of Thailand. She was the first child and grew up in Alaska until she moved to Fresno in 2013. She is currently a senior in Psychology with a minor in Criminology and will be graduating in Spring 2020. After that, she wants to apply for a Ph.D. in Clinical Psychology with an emphasis in forensics. Her career aspiration is to become a Forensic Psychologist and work in the criminal justice field, especially in the prisons with inmates. She is currently involved in the Psychology Honors Program and the McNair Program, both programs focusing on research. She is currently a peer leader and instructional student assistant with the College of Science and Mathematics BOND Program. Her hobbies are reading, writing, and drawing. One of her mottos is, "It's never scary to try. What's scary is that you have given up." Yeng is so excited to help students like you to get involved!
Major: Liberal Studies
Yulissa Sanchez is from Madera, Ca. She is currently a fourth year student who is pursuing a BA in Liberal Studies and a Minor in Urban Civic Education. Her mission is to connect students with the opportunities that Fresno State offers!
QUESTIONS? Call 559.278.2741 or email getinvolved@csufresno.edu