Manage My Club
Club Re-Registration
Your organization is responsible for completing the Club Re-Registration process during the fall semester.
The Club Re-Registration process includes:
Updating the Club Registration Form,
Completing the Officer and Advisor Agreement Forms, and
Viewing the Club and Organization Orientation Videos.
Review Student Club & Organization Handbook (Updated January 2023).
Failure to participate in the Re-Registration process for your organization will result in loss of recognition with the university.
Important Club Dates
Club Recognition Renewal Resources
Any time your organization changes officers or advisor throughout the year, you are required to update the information with the Student Involvement Center. Updating this information ensures important information and communication coming from our office is being sent to the correct individuals within your organization.
On-campus Banking
Outlined in ICSUAM 3141.01 and Fresno State campus policy B-56, monies collected in the name of the Student Organization must be maintained in a bank account of the University or an Auxiliary Organization.
At no time shall a Student Organization deposit funds into an unauthorized bank account. Any exemptions to this requirement must be approved by the campus CFO.
"Club Accounts" are provided by the Associated Students Inc. (ASI) to Fresno State student clubs/organizations.
Services Provided:
account security
balance inquiries
reimbursements and deposits
assistance with paperwork
funding for on campus events
new club - grants
For additional information please contact Associated Students Inc. (USU 317) at 559-278-2656 or visit fresnostateasi.org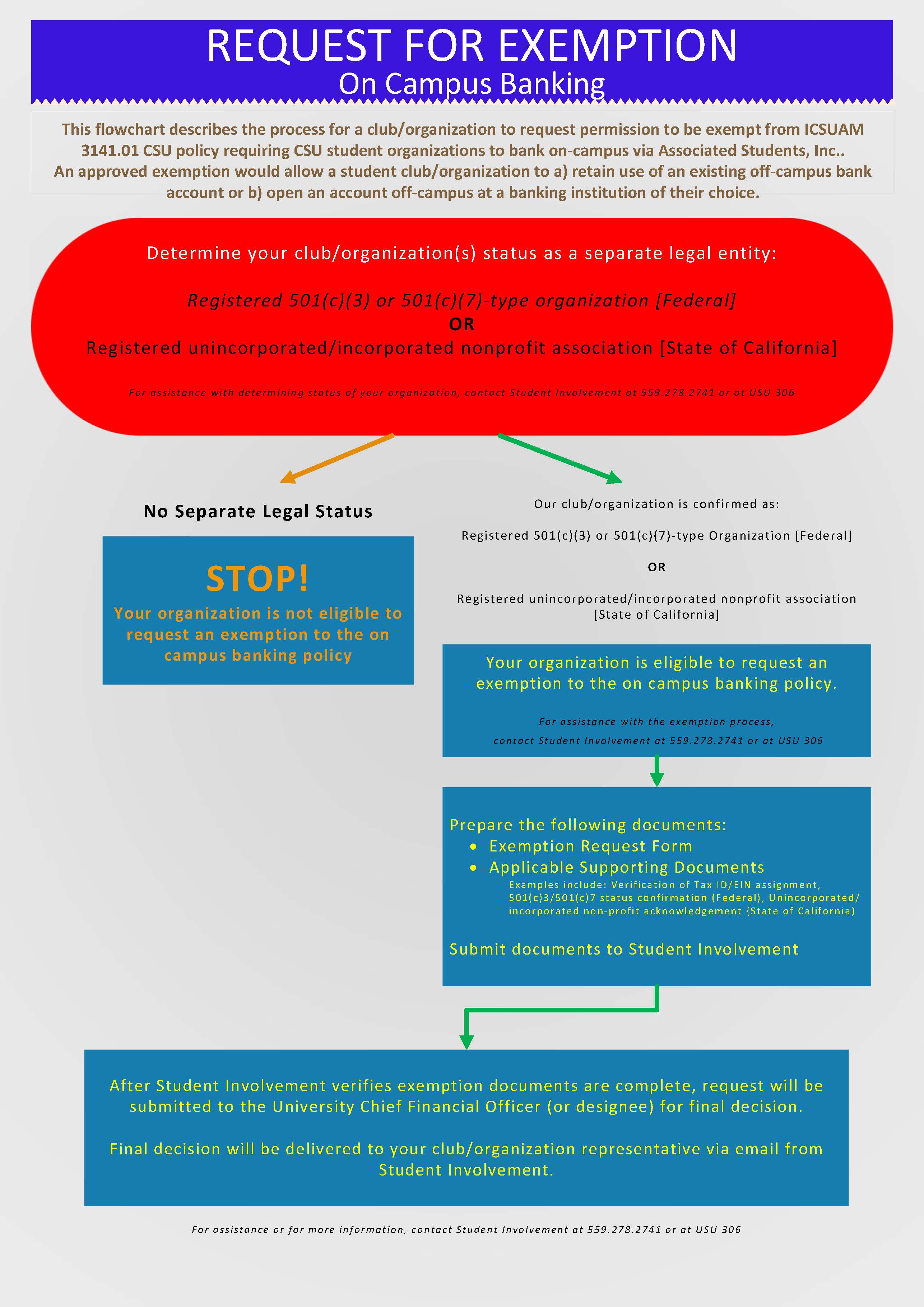 Organizations who seek to open or maintain a bank account off-campus with a financial institution of the organization's choosing (ex: credit unions or banks) will need to demonstrate "separate legal status" in order to submit a request.
See flowchart for overview of exemption process and how to identify if your organization has "separate legal status".
Questions and/or assistance please contact Student Involvement (USU 306) at 559-278-2741 or studentinvolvement@mail.fresnostate.edu
To make a request to be exempt from the on campus banking requirement an organization must submit a request at Fresno State's ENGAGE at the following URL
https://engage.fresnostate.edu/submitter/form/start/496199
Or search the form at ENGAGE in Forms - "2021-2022 Off-Campus Banking Request"
Questions and/or assistance please contact Student Involvement (USU 306) at 559-278-2741 or studentinvolvement@mail.fresnostate.edu
Workshops
Club and organizations members are encouraged to attend workshops offered throughout the school year on various topics related to effectively running a student club or organization.
Come learn how to plan and implement an event
Helpful Organization Resources
Student Involvement Handouts