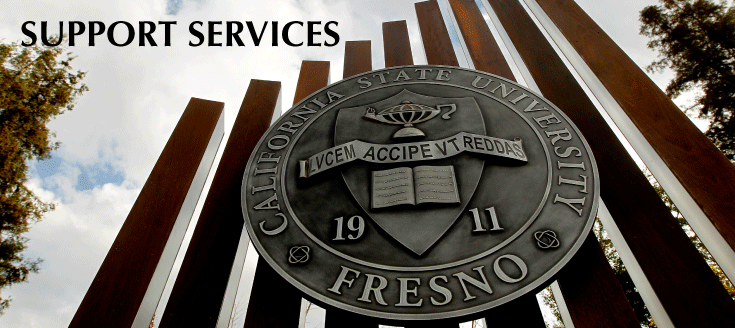 There are numerous resources on campus to assist students both academically and socially. Here is a few to get you started.
Academic Support
Academic support center at Fresno State with tutoring in twenty subject areas, a semester-long series of Academic Success Workshops, academic coaching, study space, and Supplemental Instruction.
The Writing Center is open for all students to get help with any writing they are working on. Through small writing groups or 1-on-1 tutoring, the Writing Center is a great resource to improve your writing.
Services for Students with Disabilities (SSD)
"A resource for students with disabilities to achieve academic, cultural, and social excellence."
The Career Development Center extends the university mission in boldly educating and empowering Fresno State students for success.
Social Support
The Student Cupboard is a free food and hygiene pantry for current Fresno State students.
Need some professional clothing for an interview or career fair. The Clothing Closet located in the Career Development Center provides free professional attire to students. Everything from suits and blouses to jewelry and shoes!
Student Support Services (SSS)
SSS is a federal TRIO grant program that serves first-generation, low-income, and disabled students. Its purpose is to provide academic support services to assist undergraduate participants to remain in college and reach the goal of graduation.
To learn more about support services you can download this Student Affairs handout or visit their website.