Orientation Leaders
Dog Days Orientation Leaders are the heart of the orientation program. They assist incoming students as they make their transition to the University. Whether it is peer advising or class registration the Orientation Leaders are a vital resource for new students. We are looking forward to seeing you at Dog Days!
---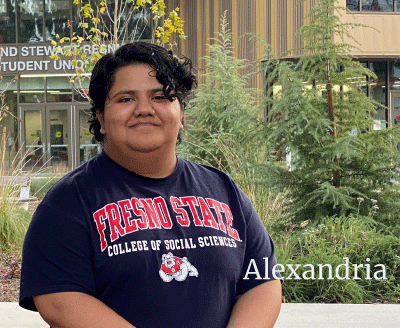 Alexandria Aguirre
Criminology - Victimology Option
One piece of advice I would like to offer to incoming students is to be open to creating friendships and talking with others. It may seem easier to just stick with the friends you have from your previous school. However, once you begin taking more major or upper division classes, you may not see your friends there. It is really helpful to create friendships, study groups, and even a good acquaintanceship with someone in your class so you both can help each other out when there are bumps in the road. As a transfer student to Fresno State, I was jumping straight into upper division courses, with no friends in my major at all. I pushed myself to be open to meeting new people. Through this, I have met some really awesome people and formed friendships where we were able to help each other through our classes.
---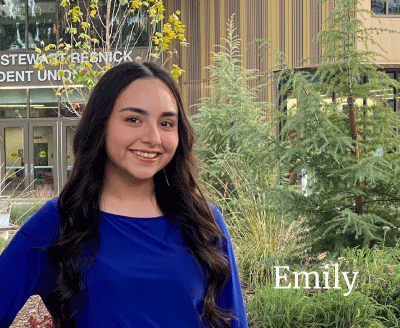 Emily Avila
Psychology
Dear incoming student, welcome to Fresno State! My name is Emily Avila and I want to personally congratulate you for all the hard work you put in to get here. College can seem a bit scary and exciting, but we are here to guide you through your journey! My biggest piece of advice is to take it one day at a time, I know it can be a bit overwhelming. DO NOT WORRY! Our university has so much to offer, and so many resources to help you succeed. I am one of them! As a first-generation college student, I thought I would be alone in my college journey, but here at Fresno State there are so many people ready to support you and cheer you on. I say this from personal experience; allow yourself time to find your place and familiarize yourself with this new stage of your life. Do not be afraid to reach out and connect with your community! GO 'DOGS!
---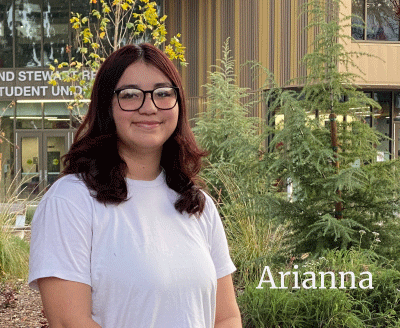 Arianna Casillas
Pre-Health
Join organizations on campus and look into getting a job on campus! As a freshman, it might feel difficult to find a sense of community but when you involve yourself, not only can you find likeminded people but you can also make lifelong friends.
---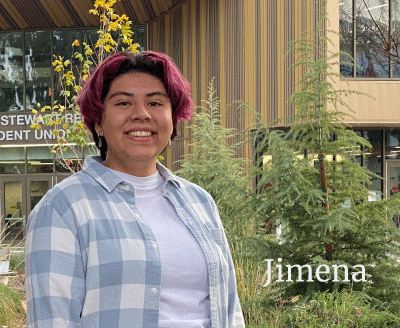 Jimena Espinoza
Social Work
Advice that I would give to an incoming student would be, to not be afraid to reach out and ask questions. Whether it be your professors, classmates, or counselors. Ask questions about assignments, lectures, and anything that may interest you. This can help you gain more interest in the topics that you're learning and will let you connect with your professors and counselors. Also having these connections will give you insight on the various paths you can choose to take, whether it be career wise or major wise.
---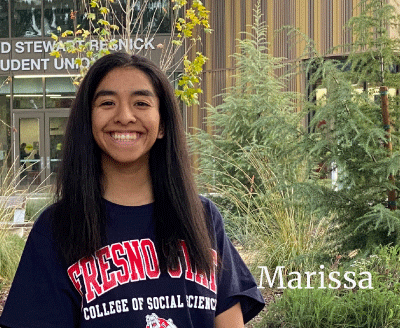 Marissa Favela
History
Starting off new at a university is bound to come with feelings of nervousness with many worries. When it was time for my first day of class, I felt lost navigating the campus, a hardship that is shared among many incoming students at a university. Overcoming these emotions can be a difficult task, but learning about all the different groups offered here helped me realize that there were many people just like me who I could reach out to. Especially as a first-generation student, it's really challenging to adapt to a university environment. The experience is something completely fresh, everything was so new to me, and I felt really isolated for a while. For me, joining mentor programs and checking out clubs helped me feel more comfortable talking to new people. Reaching out to more people with whom I shared these struggles helped me transition into college life a lot more seamlessly, and it allowed me to feel like I really fit in amongst my peers.
---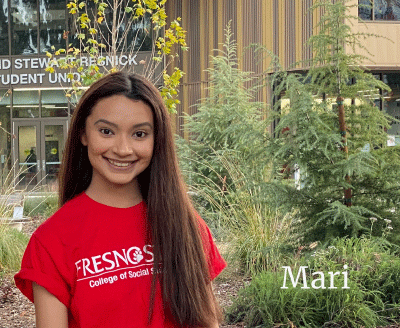 Marianita Garcia Valdez
Political Science
A piece of advice I would give to incoming students is: don't be afraid to ask. Fresno State has so many resources to help you with whatever hardship you are going through whether it be academic or personal but it can be overwhelming trying to do it on your own. I wasn't aware of many programs on campus that could have benefited me greatly in my first few years such as the Learning Center and the Student Cupboard. Don't be afraid to talk to a professor or advisor, they can help connect you to the right resource.
---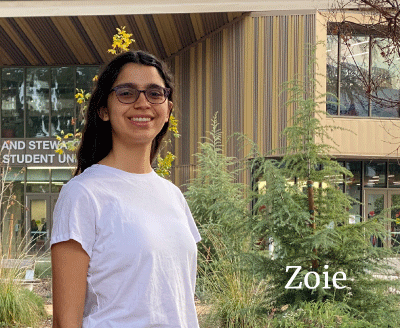 Zoie Gavel
Nutrition Science
When it comes to friendships, quality matters more than quantity. Although it can feel intimidating to be in a new school, remember that there's no rush to make friends. As a freshman, I hung out with people that I didn't like so that I wouldn't look lonely, and I felt miserable. Once I became comfortable being alone, however, I was able to know myself better and know what I wanted in a friendship. After a while, I made better friends and felt good about myself. Long story short, it's perfectly fine if it takes you a while to make new friends at Fresno State. Don't be afraid to be alone.
---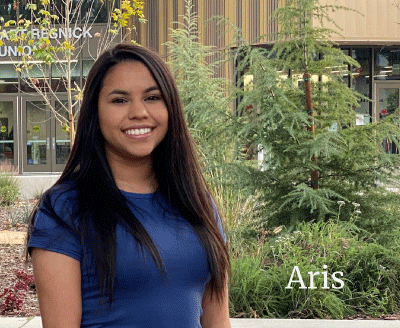 Aris Gomez Torres
Pre-Health
Always remember that everything happens for a reason, never be too hard on yourself because at the end of the day everything will be worth it. Remember to take a second to breathe and think of what you are doing in the now rather than thinking of what can happen.
---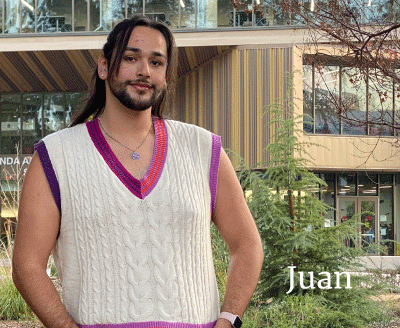 Juan Huerta
MFA Creative Writing
I was a transfer student when I came to Fresno State, and I was realistically on-campus for about a span of 7 months before the pandemic hit. Unfortunately, I finished my undergrad program on zoom, barring me from forming any lasting connections. However, as a graduate student, I was afforded many opportunities to become an active part of many communities. I began working as a tutor for the learning center, which allowed me to make a broad range of friendships, some of whom have pushed me to be more involved with on-campus events. I also joined the Chicanx Writers and Artist Association (CWAA) and am now the acting vice president. Above all else, I was never afraid to try to make connections because I couldn't imagine navigating A graduate program without some sort of community.
---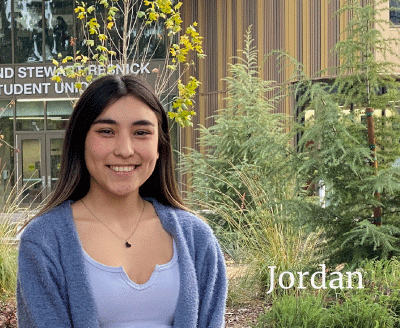 Jordan Jaime
Liberal Studies
A hardship that I had to overcome when entering college was having to learn everything on my own. I'm the first person in my immediate family to enter college so when applying and filing everything for school I was completely unprepared and lost and the people in my extended family that did attend college weren't around to help, so what helped me overcome this problem was attending every event my school put on to help students that were lost during any point of the application process including help for filing for financial aid. Another hardship was also having to learn how to live on my own and away from all my family. This is something that I kind of prepared for and even was a little excited for, I think that everyone gets a little excited to leave, but after arriving here in Fresno and being here for a while I found it to be a little difficult not having my siblings or parents around, but at the same time I always remind myself that their the reason I'm here, by being the role model to my siblings and making my parents proud.
---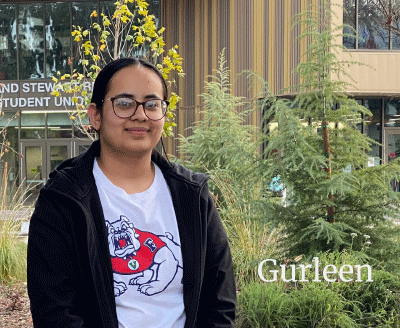 Gurleen Kaur
Nursing
Piece of advice: Never hesitate to ask for help.
Being an incoming freshman can be overwhelming because of all the stress due to classes, enrollment, and settling into a new environment. However, I learned from my experience that if you ever need any kind of help don't stress out because there are plenty of resources at Fresno State that can help you such as Academic advising that help me to keep up with my classes, Career development center that helped me to choose a right career/major by exploring the opportunities. So never hesitate to reach out to your professors, advisors, and even peers for help and this will also help you to develop a sense of belonging at Fresno State.
---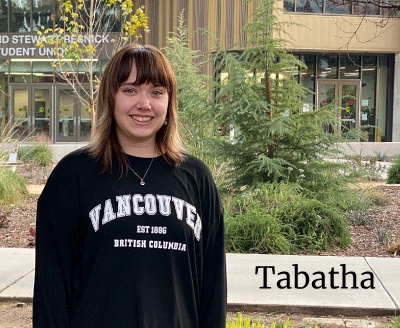 Tabatha Lamb
English Education
I started my college journey in Fall 2018, starting with Oakhurst Community, then Madera Community, Fresno City, and Reedley. I transferred to Fresno State in the Spring of 2021, overcoming a pandemic, online schooling, and moving an hour and a half away simultaneously. I graduated Spring of 2022 with a major in English Education and starting the Teaching Credentials this Fall. I hope to teach high school literature and writing within the next few years. Looking back on my years in school, one piece of advice I can give is to be patient and take one day at a time. It may feel like forever, but it will fly by once you blink. Enjoy the ride in the meantime!
---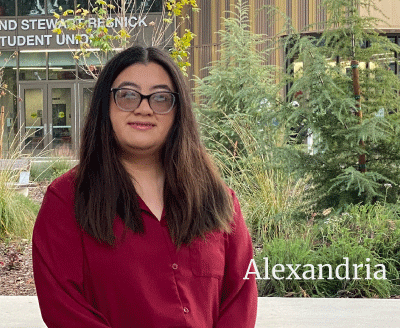 Alexandria L.
Psychology
The number one piece of advice I would like to give is to make memories! The time flies by extremely fast whether you're a transfer student, a first time freshman, or a dual enrollment freshman. By the time you realize it it's midterms and half the semester is gone. Then, it's finals and you're just ready for it to end only for it to start again just as fast! So try your best to make memories along the way.
---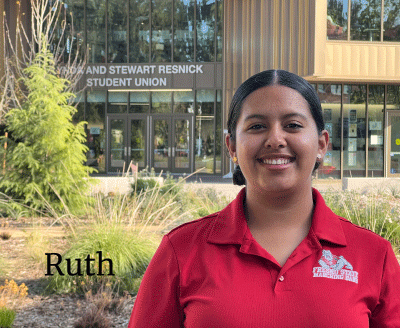 Ruth Melchor
Music Education
A piece of advice I have for everyone is to get involved in some way here at Fresno State. When I came to Fresno State I didn't plan on getting involved in any way so when the semester first started I was very bored and unmotivated. I didn't enjoy this so I decided to get involved with the marching band. I immediately made new friends due to everyone being so welcoming and supportive. I also decided to try and make friends in some of my GED classes and I'm still close friends with them to this day. What I'm trying to say is that you shouldn't close yourself off to new opportunities just because you're scared. Join a club, go to student involvement activities, or simply make a new friend in one of your classes because you never know where that road may take you.
---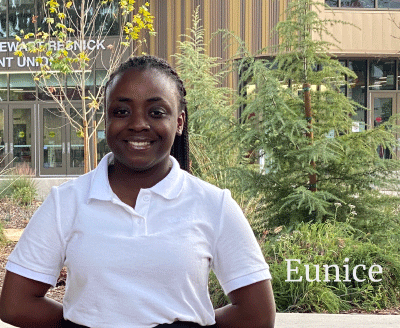 Eunice Odozie
Biochemistry
Whether you are a freshman or a transfer, I will advise you to learn to adapt to changes—changes in your friend group, changes in your community, changes in your career path—as change is the only thing that is constant in life. Do not, however, let the process of adjusting to changes cause you to forget who you are.
---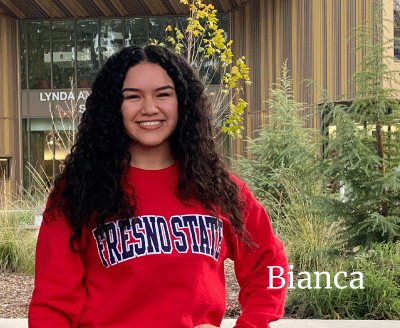 Bianca Palma
Communication
My transition to Fresno State was interesting as my first few semesters were at home and online. When I started to have more in-person classes, I worried about not finding the community I hoped for. I found that community through being involved. Volunteering and working on-campus has introduced me to a network of students and staff that encourage and support one another, helped me balance work and school, and aided the formation of long-term friendships. To find a community of your own, I highly recommend applying for on-campus internships, jobs, or volunteering!
---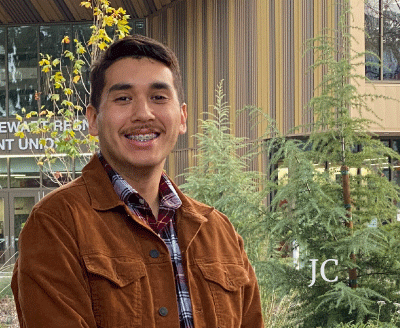 Juancarlos Puerta
Biology
Being sent to online learning during my second semester made it difficult to meet new people on campus and find a niche to belong to. At the end of my second year, I applied to work as a Supplemental Instruction (SI) leader and by the start of my third year, I began supporting students as an SI leader. Now, four semesters in, I am extremely grateful for this opportunity; not only for the skills I have been imparted, but the feeling of belonging I have established. I have met incredible SI leaders, mentors, staff, and other colleagues at the Learning Center that have many of the same interests and goals as me and have taught me plenty about growing as a professional. Last semester, when winning several awards, I was very touched by the support and applause of my peers. Now as a SI mentor, it brings me a lot of fulfillment and satisfaction to see my peers develop as SI leaders and individuals.
---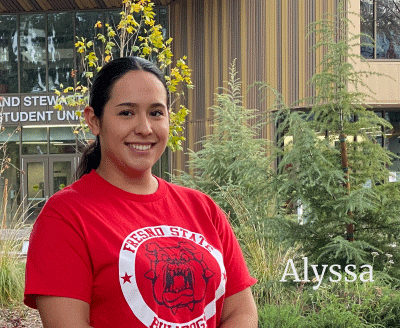 Alyssa Ramirez
ASL - Interpreting
When I transferred to Fresno State I was able to find my community by joining campus clubs and attending many events. I showed up to almost every event put on by campus organizations and slowly started to return to them with the same people. I was able to form friendships and bond over having fun at these events and seeing these people often. I also took the time to explore campus and find areas and services that would be beneficial to me such as the library study pods/rooms. This was one of the places I could now meet with my new friends and study.
---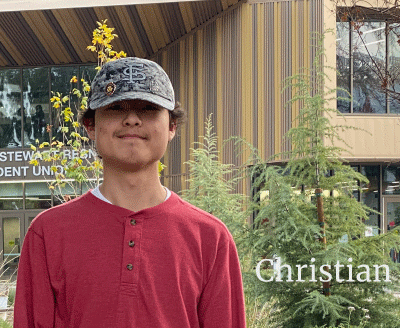 Christian Thao
Mathematics
Moving away from the loving support of my family to Fresno State was a difficult moment of my life. I still remember watching my parents and brothers stepping into the car, the passengers waving me goodbye. I was alone now. As I struggled to adjust to this new environment, I was constantly wanting to isolate myself as a defense mechanism, but it only made me feel worse in the end. I imagine that a lot of students living away from family the first time experience this, and I can definitely and immediately recommend one solution in particular: reach out to others. Set time aside so that you can spend time with others, especially family. Maintaining or rebuilding your relationships with family members is so important, and making new friends will help you navigate this new environment and feel welcome. Make the first step to find a person to talk to, and Fresno State will be all the better experience for you.
---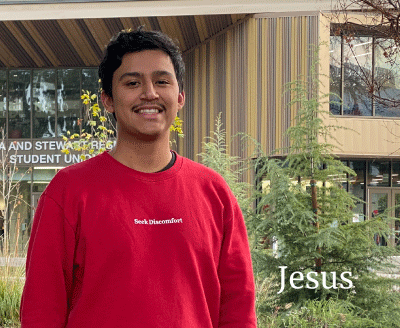 Jesus Velazquez
Mathematics
As you're entering a new phase in your life you will meet new goals and expectations. Not everything will come at ease since you at the same time you will also be presented with new skill sets to adapt to, which may be difficult in itself. As you prepare for a new journey remember that not everything will be given. It is okay to ask for help and it is okay to fail. There is no specific timeline for anyone, we all run at our own pace.
---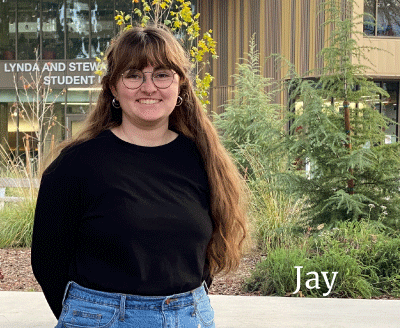 Jay Wiedenhoeft
Sociology & Women Gender & Sexuality Studies
Finding my community on campus took me a while. When I entered Fresno State as a freshman I was the typical commuter student who went to class and left. I didn't engage much in the campus community as I was intimidated to join clubs and be part of campus life. Eventually, I was tired of feeling disconnected so I began to put myself out there and start joining things on campus. I began working on campus in the learning center, joining clubs such as USP and Soc club, and working with other programs like COSS linked and leadership. Through my engagement on campus, I've made friends that I know will last a lifetime and found people who are now my biggest supporters. My advice to any incoming student is to put yourself out there early, if you think something sounds interesting, go to it, do it, join it, you never know what it can lead to and your time at Fresno State will be much more memorable.
---
Core Staff

Dog Days core staff is comprised of two professional staff and two Student Coordinators. These staff work year round planning orientation programs along with programs and events for the Office of New Student and Family Programs.
---
Ken Ternate
Senior Coordinator
Going into my 18th summer leading Dog Days one thing I have learned is that the Fresno State campus is very welcoming and has numerous ways to support students. Students just have to seek them out. Remember that everyone is making the same transition at Dog Days so don't sit alone, engage with your Orientation Leader, and get to know your advisors. The transition to Fresno State can be challenging but we're here to help you. Dog Days is what you make of it.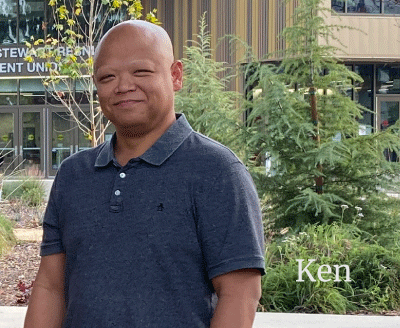 ---
Erika Castanon
Coordinator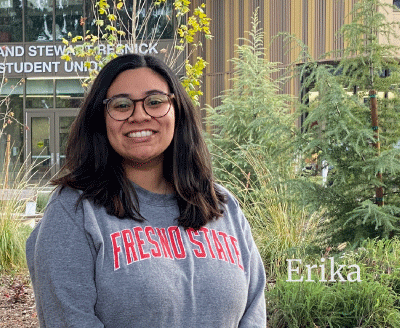 ---
Ellie Haro
Student Coordinator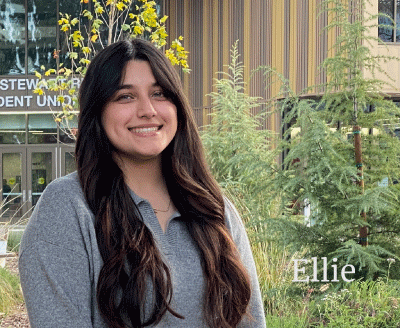 ---
Alan Herrera
Student Coordinator