Pre-Orientation Checklist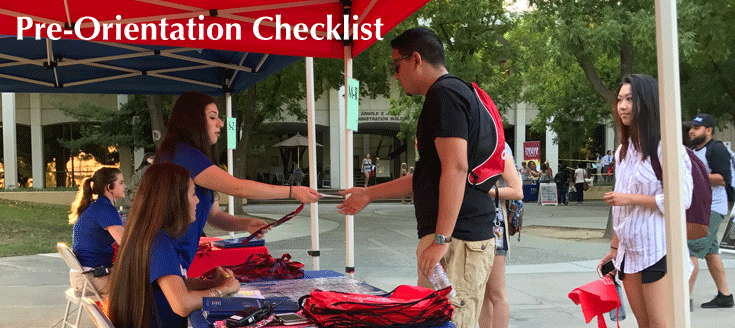 This checklist is for in-person Dog Days. When you're getting your things ready to leave for orientation, please do not forget to bring the following things that may be helpful on your orientation day.
Checklist Information
Checklist
Item
Reason
Complete the "Accept/Decline" Process
Be sure to officially accept your admission to Fresno State by the deadline.
Complete your mandatory Online Pre-Orientation
A link will be sent to you in a reminder email two weeks prior to your Dog Days Orientation. Using the link you will need to create an account in the Dog Days system using your Fresno State student ID number. The Online Pre-Orientation takes approximately one hour to complete.
Sign up for a FREE Fresno State email account
This is how our campus will communicate important information to you. If you have not already, you may sign up by visiting my.fresnostate.edu and clicking on "Get an account now!"
Bulldog Card
Your Bulldog Card is your official Fresno State ID card. You can visit their website regarding the new procedures to get your card. Students have the option to submit a photo online prior to their Dog Days. Click here for more information.
Test scores
If you've received your scores, it may be beneficial when you're talking to a counselor about scheduling classes to have those handy to know what classes you'll need to take.
General Catalog & Class Schedule
The Catalog and Class Schedule are both available online for free. Students can access the schedule of classes through their Student Portal. The Catalog can be viewed here: http://www.fresnostate.edu/catalog/
High School Transcripts
These may be beneficial when trying to get questions answered by admissions, evaluations and/or counselors.
A pen and paper
The day will be packed with lots of information; you may find it helpful to take notes.
A copy of your Dog Days Confirmation email
This is not necessary to have but can be helpful if you have had to reschedule your Dog Days Orientation.
Immunization Records

The CSU system requires students to show proof of the immunizations for Hepatitis B, and Measles & Rubella. Proof of immunizations can be given to the Health Center during orientation or sent over before the end of your first year.

If you cannot locate your immunization record students can take a free test at the Student Health and Counseling Center to determine what immunizations they have received.

A sweater or sweatshirt
Not necessary during virtual Dog Days but helpful once you are cleared to come back to in-person instruction. It may be 100 degrees outside, but some of our classrooms and buildings tend to be on the colder side.
Any other correspondence from the university that may aid in answering questions
If you have any other business to take care of with other offices on campus, you may want to bring the materials necessary to have those questions answered. All offices are holding virtual office hours to assist you.