Contact Us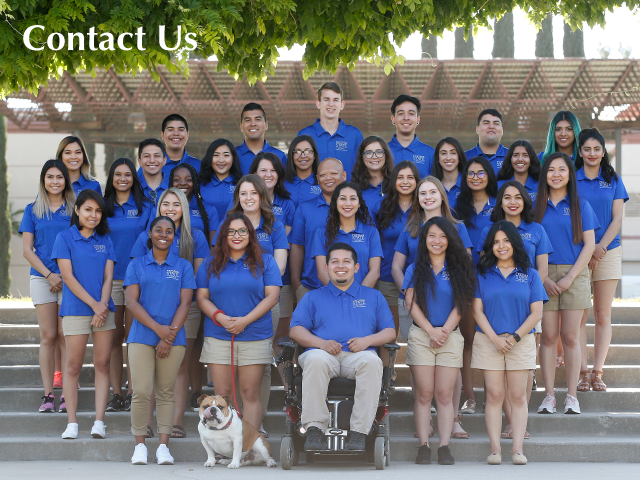 Dog Days: New Student Orientation will be held virtually for incoming Summer 2021 students due to COVID-19. Incoming Fall 2021 students will need to register for Dog Days between March 15 - May 1 for freshmen and March 15 - June 1 for transfer students.
Do you have questions regarding the Dog Days: New Student Orientation program? Email us your questions, comments, or suggestions.
Dog Days Office Contact Information
559.278.4885
dogdays@mail.fresnostate.edu
Dog Days Staff
Dog Days Orientation Leaders are the heart of the orientation program. They assist incoming students as they make their transition to the University. Whether it is peer advising or class registration the Orientation Leaders are a vital resource for new students. We are looking forward to seeing you at Dog Days!
Ken Ternate - Coordinator, New Student and Family Programs

Aamiah Finley and I am a fourth year majoring in Criminology, Forensic Behavioral Sciences.

While serving as Vice President of Standards for Fresno State Panhellenic and being a Criminology Honors Student, her love for being involved on campus just keeps growing! When she is not taking care of her plants, watching movies, or working out you can find her being a Dutch Bros Barista.

Aidan is a double major in History and MCJ. He can't wait to see you virtually this summer and in person this fall!
Amarin Riar is a pre-health major on the pre-nursing track. Her goal is to become a nurse practitioner. Something interesting about her is that she speaks Punjabi. Also, she loves to travel.
Anou is a fourth year Biology major, double minoring in Chemistry and Asian American Studies. She loves the outdoors, traveling, working out, and anime!
Brooklyn is an English Education major, and I was born and raised in the Central Valley. Her hobbies include reading and watching crime tv shows and documentaries.
Elizabeth "Ellie" is second year and a pre-psychology major! Some of her favorite hobbies are reading, walking her dog, and hanging out with friends. Have a safe summer/fall semester!
Emily is a 2021 Fresno State Graduate! She is from Reedley and Orange Cove CA. In her free time she loves to spend time with her pets and watch the San Francisco Giants! :)
Erica is a senior working on my Psychology major and will also be part of MASS (Mentorship Alliance for Student Success) for College of Science and Mathematics.
Jesus will be entering his Senior Year at Fresno State as a Mathematics major. He was born in Fresno, CA and raised in a small town west of Fresno called Firebaugh. He is Mexican and loves reading in my free time. He also likes to delve into the study of Physics, even though he is a Math major.
Kandace is a senior Kinesiology major with an Exercise Science option. In her free time she enjoys yoga, and hiking in Yosemite. She believes a good solo dance party can help turn a rough day into your best day!
Kelly is a second-year School Counseling student and Returning Orientation Leader. In her spare time, she enjoys gardening, hiking, and working on creating the perfect home oven pizza. She loves to help students navigate college, so please do not hesitate to ask for help!
Lauren is a fourth year Biology major minoring in Criminology, she is also Pre-med and her goal is to become a Forensic Pathologist. In her free time she enjoys upcycling clothes, going to the gym, and finding new music!
Rosemary is majoring in Social Work with a minor in Criminology. An interesting fact about her is that she is a pug mom. Some of her hobbies include traveling, dancing, and listening to Bad Bunny.