Dates of Orientation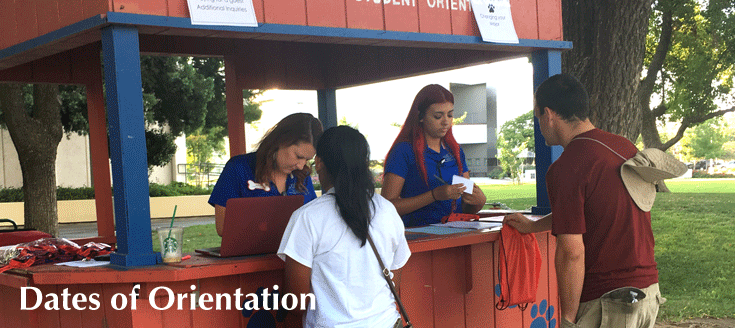 Dog Days Orientations for the Fall 2022 semester will be held in July. There will be both in-person and virtual options for most majors. The program is mandatory for all incoming undergraduate students and reservations can be made through the Fresno State student portal at my.fresnostate.edu. Students must first "accept" their admission to the university in order to access the Dog Days Reservation system.
The reservation system opens March 15, 2022.
Dates for the various colleges and schools will be published prior to the reservation system opening.
In-Person - July 12; Virtual July 18, 21
Agricultural Business
Agricultural Education
Animal Science
Enology
Food and Nutritional Sciences
Culinology
Dietetics
Food Science
Industrial Technology
Plant Science
Viticulture
In-Person - July 11, 14; Virtual July 19, 22
Art & Design

Art
Graphic Design
Interior Design

Communication
English
Linguistics
Media, Communications and Journalism
Modern and Classical Languages
Music
Philosophy
Theatre Arts
In-Person - July 11, 14; Virtual July 18, 19, 22
Economics
Fashion Merchandising
Pre-Business

Accountancy
Computer Information Systems
Entrepreneurship
Finance
Human Resource Management
International Business
Logistics & Supply Chain Strategies
Management
Marketing
Real Estate & Urban Land Economics
Sports Marketing
In-Person - July 12, 15; Virtual July 18**, 21
In-Person - July 11*, 14*; Virtual July 19
Civil Engineering
Computer Engineering
Construction Management
Electrical Engineering
Geomatics Engineering
Mechanical Engineering
In-Person - July 11*, 14*; Virtual July 19*, 22*
Communicative Sciences & Deaf Studies
Kinesiology
Nursing
Public Health
Recreation Administration
Social Work
In-Person - July 12*, 15*; Virtual July 18*, 21*
Biology
Chemistry
Computer Science
Environmental Science
Geology
Mathematics
Natural Sciences
Physics
Psychology
In-Person - July 12*, 15*; Virtual July 18*, 21*
Africana Studies
Anthropology
Chicano Studies

Child, Family, and Consumer Sciences

Child Development
Family Sciences

Criminology
Forensic Behavioral Sciences

Geography
History
Latin American Studies
Political Science
Sociology
Women's Studies
In-Person - July 12; Virtual July 22
* Not all majors are represented each date for each college/school
** Only for students in the ITEP Program