Welcome Parents and Families!
Dog Days is implementing a online orientation for guests and families to help you learn about the university and how to support your student. Families who have included their email in their students' Dog Days reservation will receive complimentary access during Dog Days.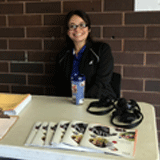 Orientación Familiar en Español
Ya que usted juega un papel tan importante en la carrera universitaria de su hijo(a), nos da gusto informarle que hemos implementado un programa de orientación completamente en español diseñado para los padres de familia.
Frequently Asked Questions
Dog Days is the first step for Fresno State students. Here are answers to some frequently asked questions.