Preparing for Your Orientation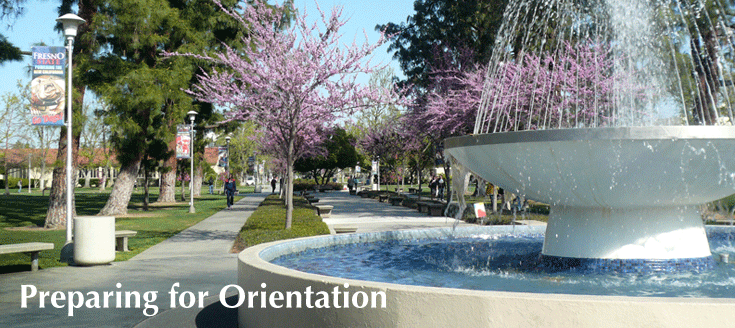 Dog Days: New Student Orientation is the first step for incoming new students. There is a lot of information given to new students and those students who are prepared prior to their orientation have a much more satisfying experience. Here are some things to help you have an amazing Dog Days Orientation.
1. Dog Days Fees
For students entering for the Fall 2021 semester the Dog Days fee has been waived.
2. Transcripts and Test Scores
Check your Student Portal at my.fresnostate.edu for any pending items. Bringing items like AP test scores and Community College transcripts can help ensure you register for the correct classes during your Dog Days Orientation.
3. Holds
Verify on the important info and holds section of your student center that there are no holds that will prevent you from registering.
4. Valid Government ID
Students will be able to get their Bulldog ID card once the campus re-opens. Students must bring a valid government ID in order to obtain their Bulldog Card. You can visit their website for details and a list of acceptable forms of identification.
5. Immunization Record
You can visit the Student Health and Counseling Center website to view the campus policy regarding the new CSU Executive Order 803 regarding immunization records.
6. Online Pre-Orientation
Complete your Online Pre-Orientation prior to attending Dog Days. A link to the website will be emailed to you two weeks prior to your Dog Days Orientation. This will help you with campus locations, student life, registering for classes, and much more.
7. Wishlist
You can begin to make a course wishlist online with the help of the Fresno State Catalog, and a General Education Requirements Sheet. Familiarize yourself with the class search, decide which classes you would like to take, and learn how to add them to your shopping cart.